Portland Guitar Co. | Portland Oregon | Contact Jay Dickinson-503.245.3276 | jay@portlandguitar.com
---
Portland Guitar Pretty Good Intonation (PGPG) System
---
Lutherie Tour
---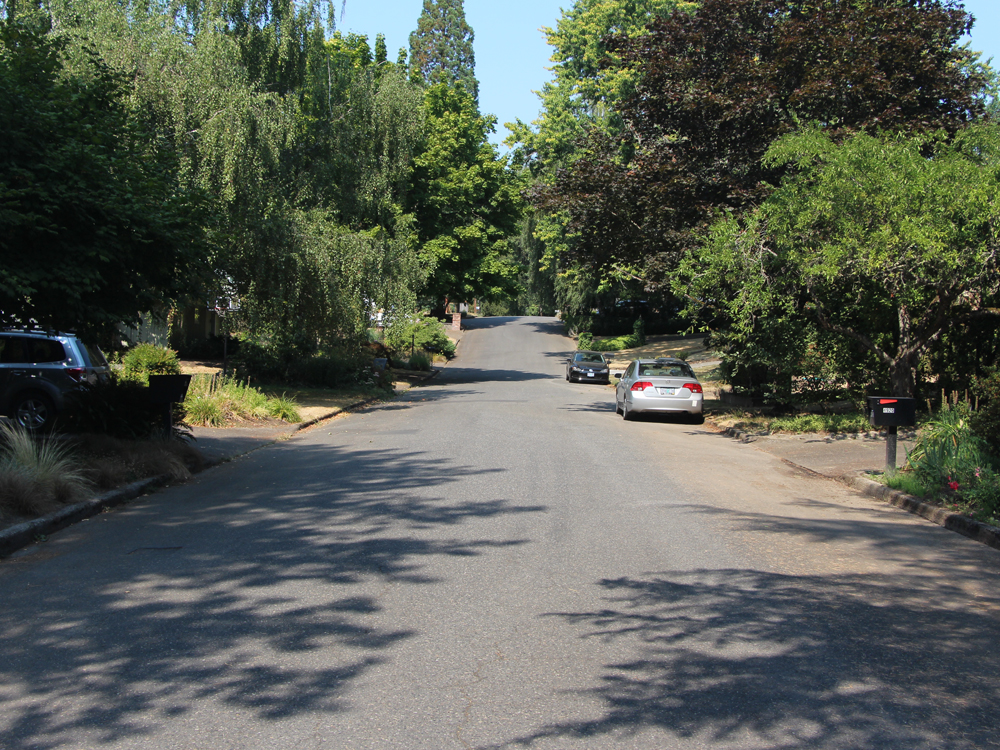 (001)
I have a Portland Oregon address and live 10 minutes from downtown, but I live on a beautiful quite suburban street.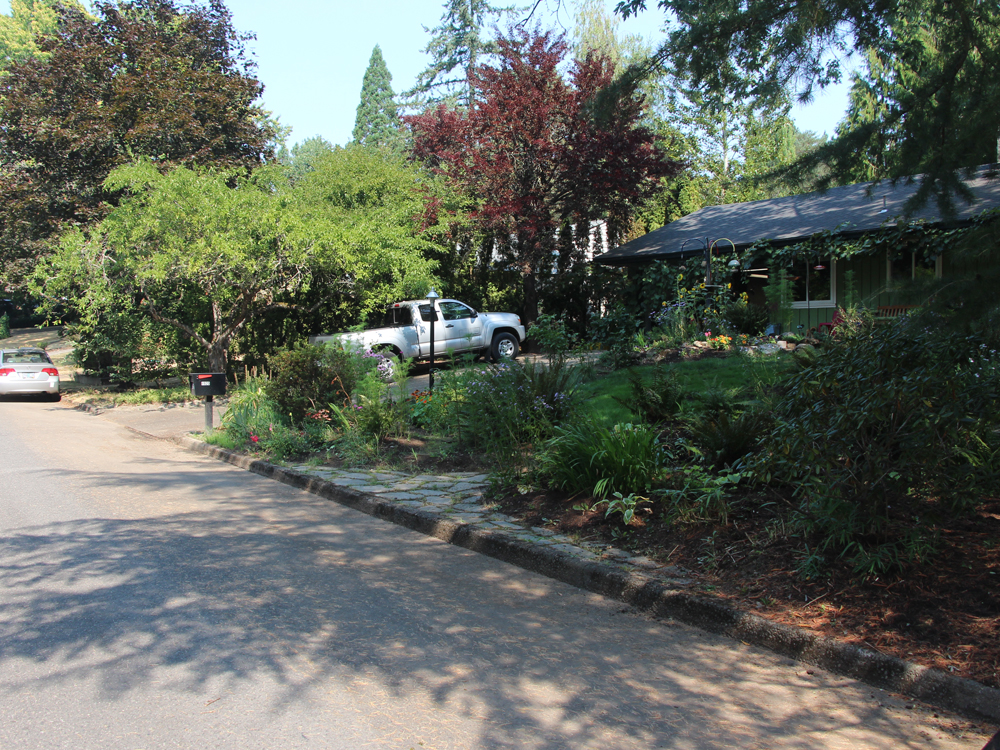 (002)
We are the old timers on the street now, we have lived here for thirty years. Right now there are a multitude of small children that live nearby... it is all very Norman Rockwellish.
(003)
My house. We like to garden.
(004)
Gotta have a truck.
(005)
It used to be a garage; now my shop.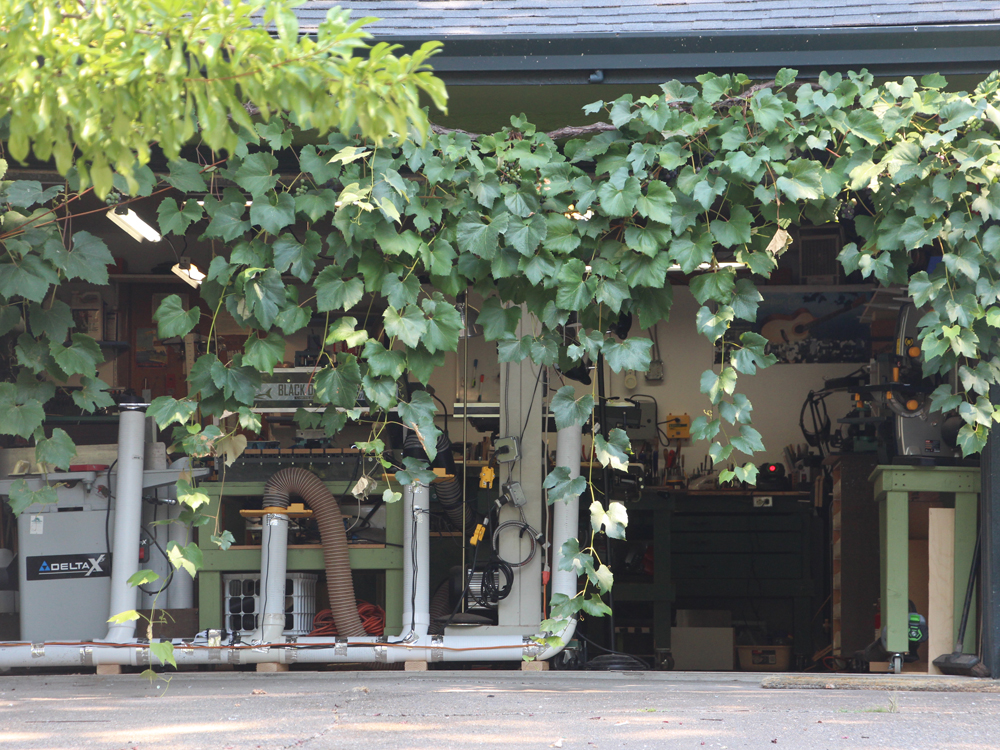 (006)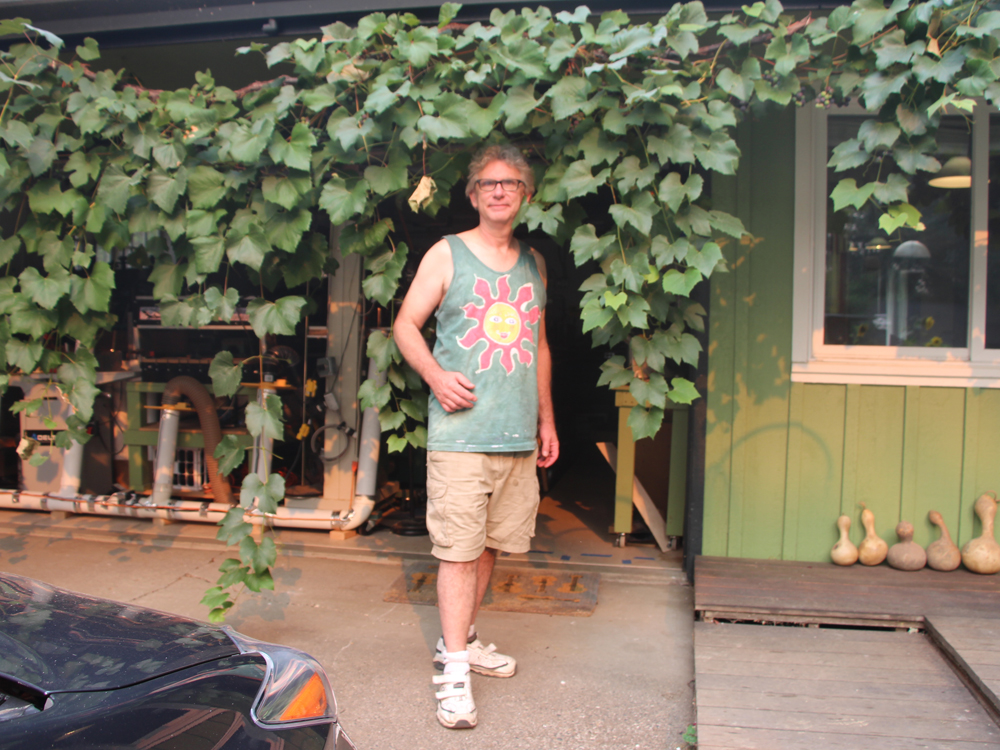 (007)
(008)
Hi!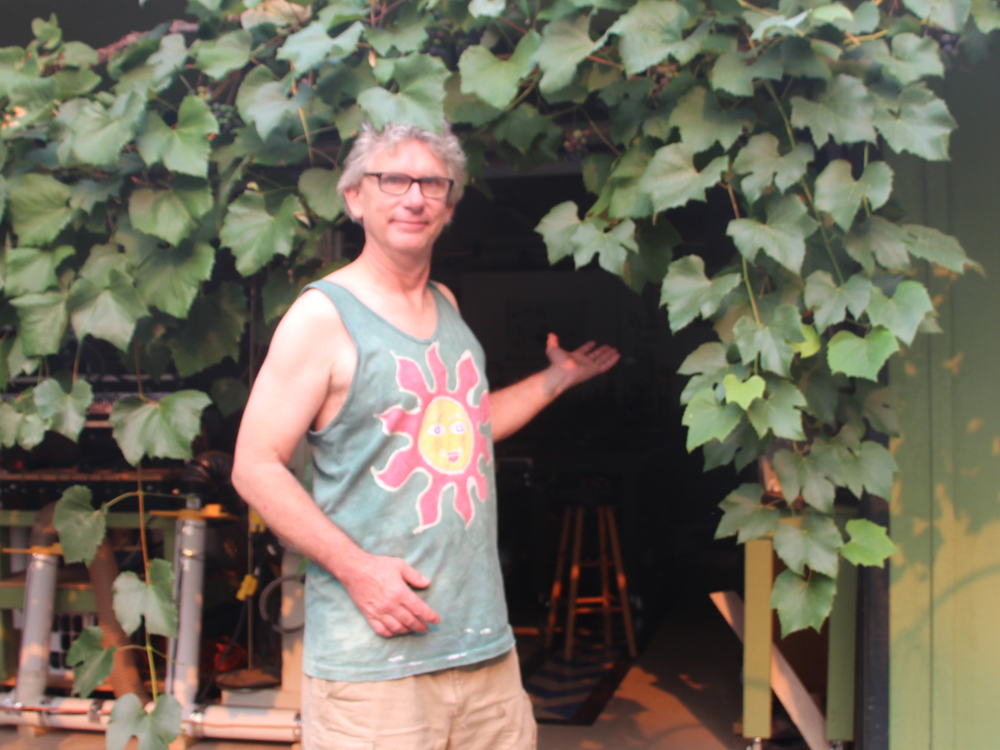 (009)
Come on in.
(010)
Welcome!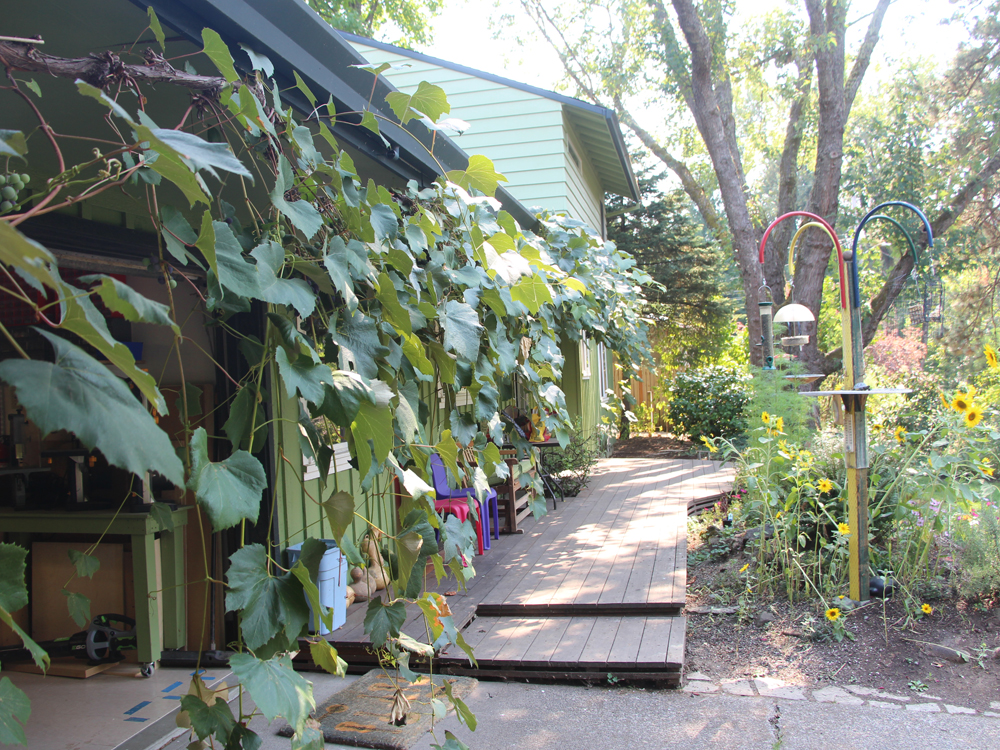 (011)
I built this porch and grew these grapes so I'd have a comfortable place to hang out and watch the world walk by.
(012)
I built the nominally squirrel proof bird feeder for my wife. The only way the squirrels can get to the feeders is to jump off of the roof, unless you are a ninja squirrel and then you just take a flying jump up.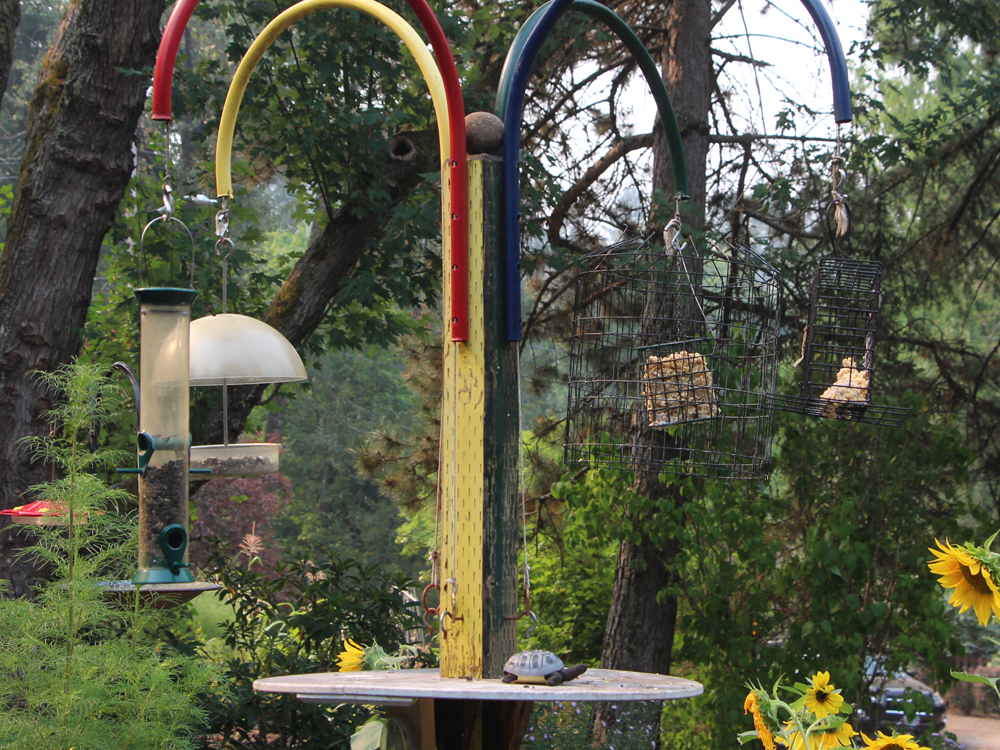 (013)
We get maybe 20 or 30 different species of birds through the year. They are busy busy busy.
(014)
A nice place to sit and sand a piece of wood.
(015)
We'll get maybe 20ish pounds of concord grapes this year. We make juice and jam with them.
(016)
I made a shingle for my shop.
(017)
(018)
Portland Guitar Co. Lutherie & Laboratory. I call it a lab because I'm a scientist and this is where I do stupid experiments. Sometimes they are enlightening.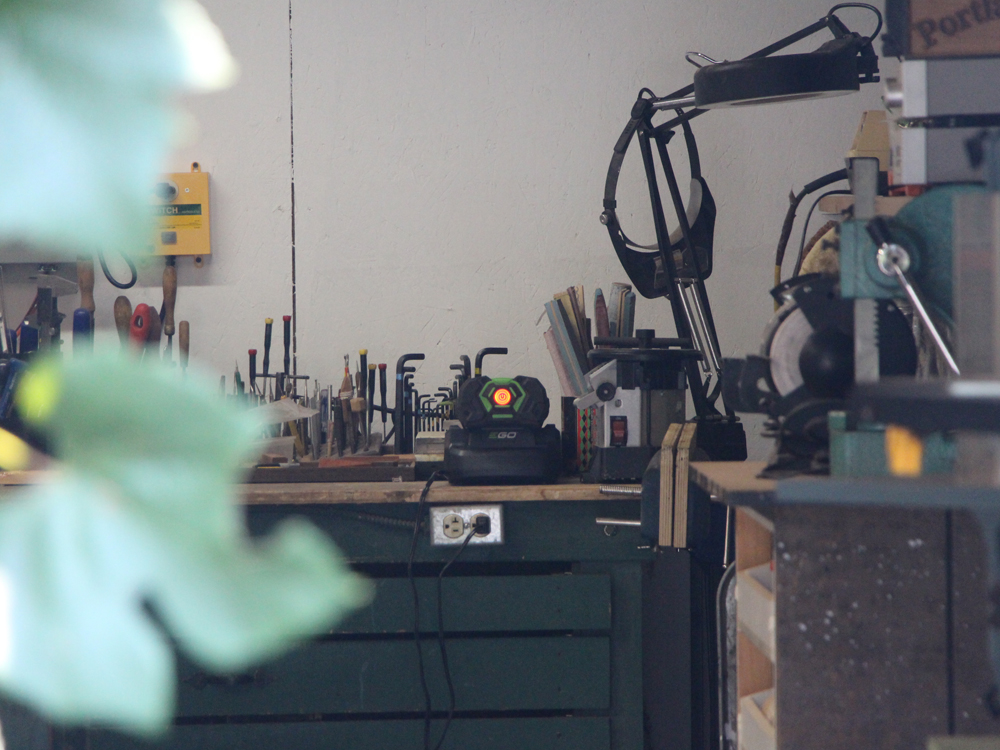 (019)
This is the second iteration of this shop. I have spent 10 years working in the first iteration, taking notes and planning for the second. The four major things I have is done: is added 2"(R13) foam insulation to the ceiling and the north wall, added an automatic dust control system, rearranged the tools into a more logical arrangement, and finally the piece de resistance is I moved my spray booth out of the perpetually dusty shop into a separate dust freeish room.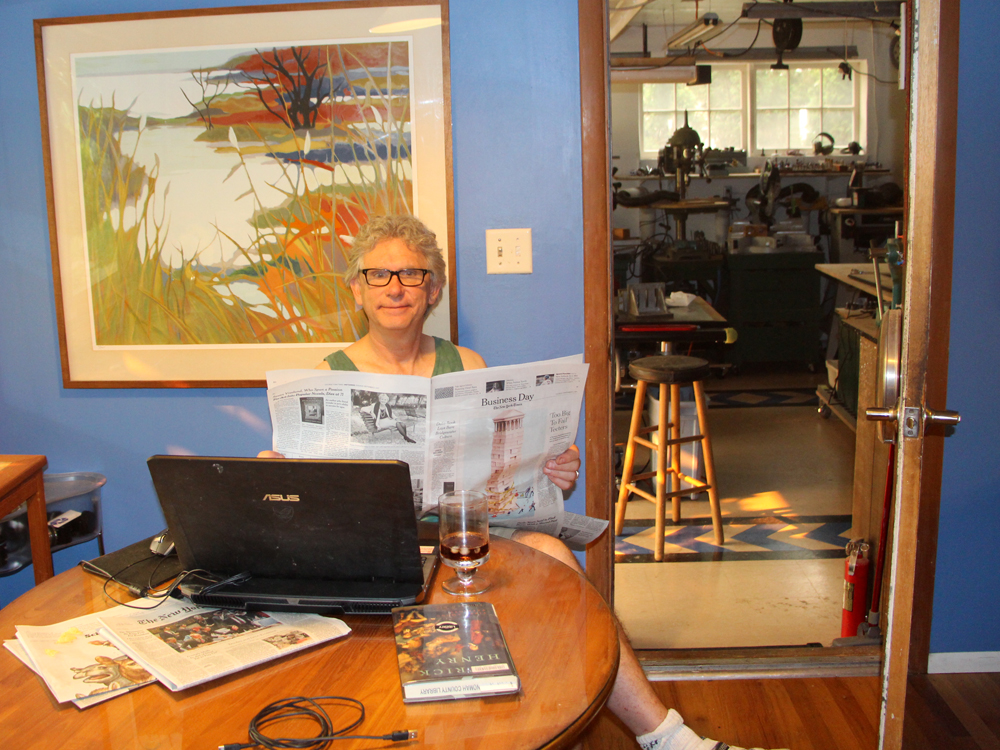 (020)
But first, I usually start the morning reading the paper and sipping coffee.
(021)
The commute can be a real bear sometimes.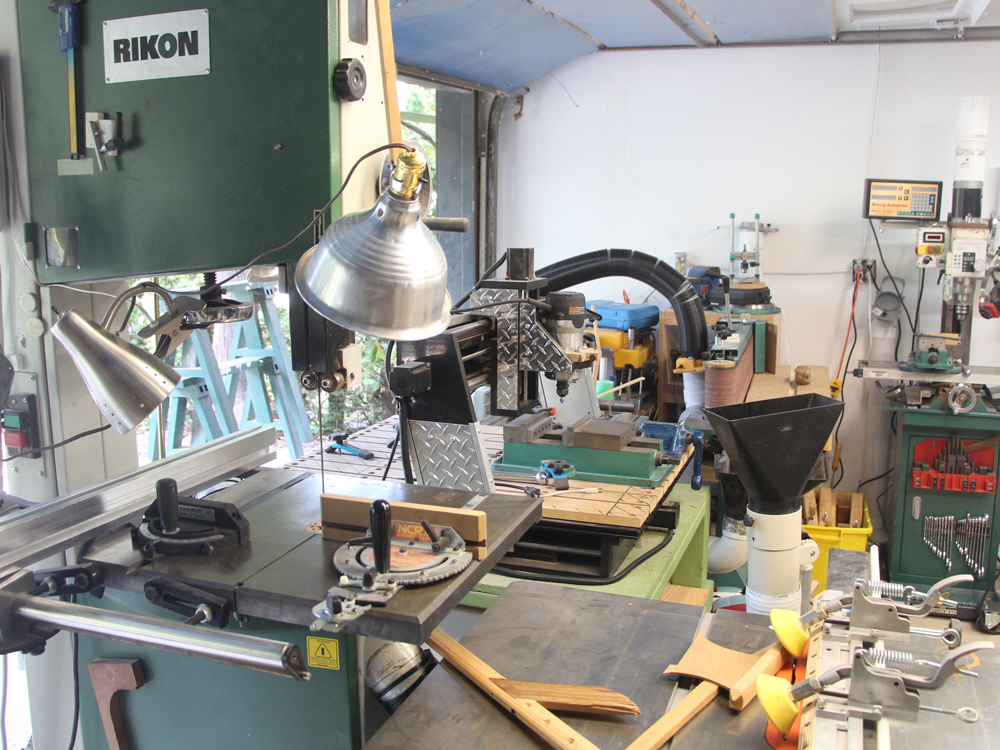 (022)
I'm going to go around the room twice. The first round will give general layout and the second round I'll go through all of the major tools.
(023)
Most of the major tools are on the west and north walls.
(24)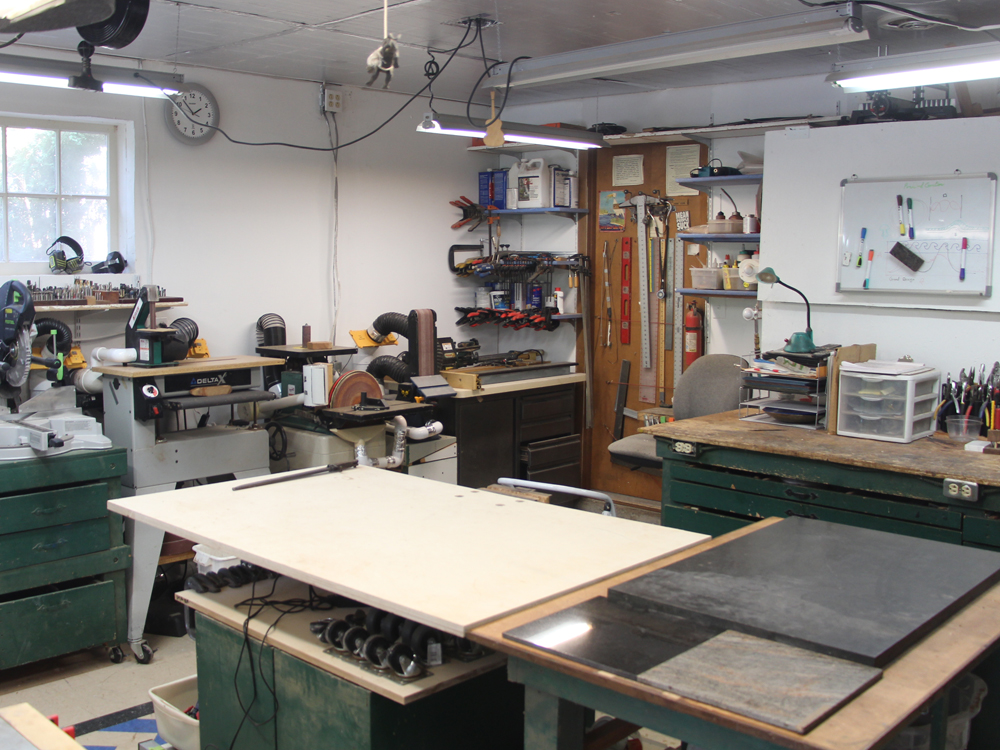 (025)
(026)
(027)
In the summer I get to leave the shop door open. The grapes make a nice shade from the afternoon sun.
(028)
(029)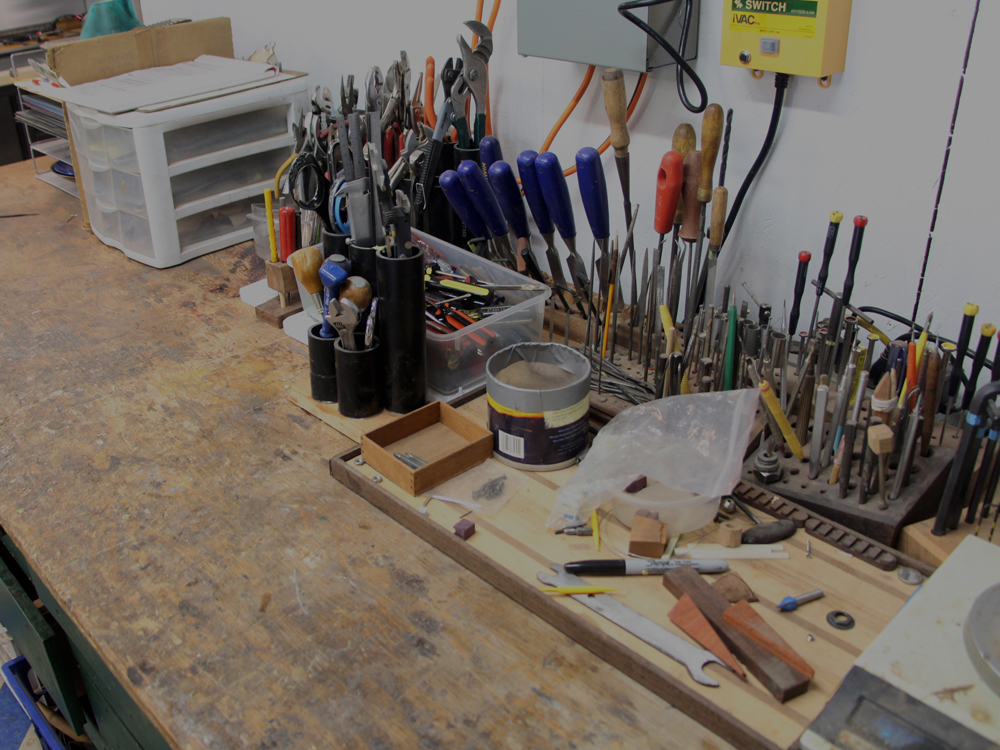 (030)
This is my tool bench. I try to keep all of my tools vertical if possible so I can see what I have. The bench is the fist thing I built for the shop many years ago.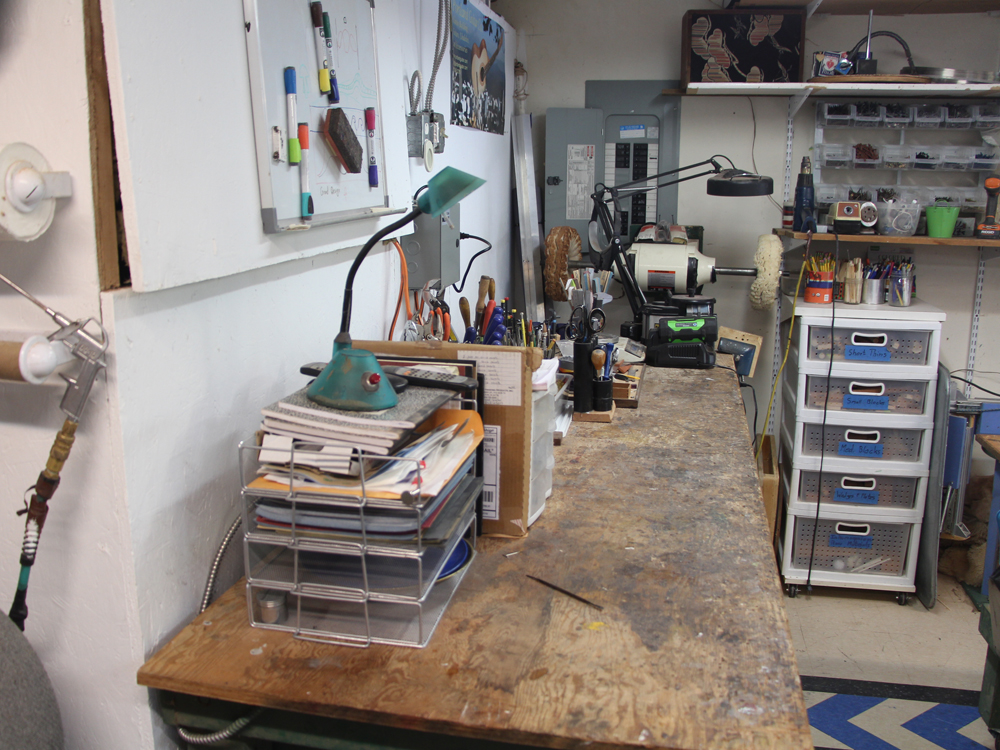 (031)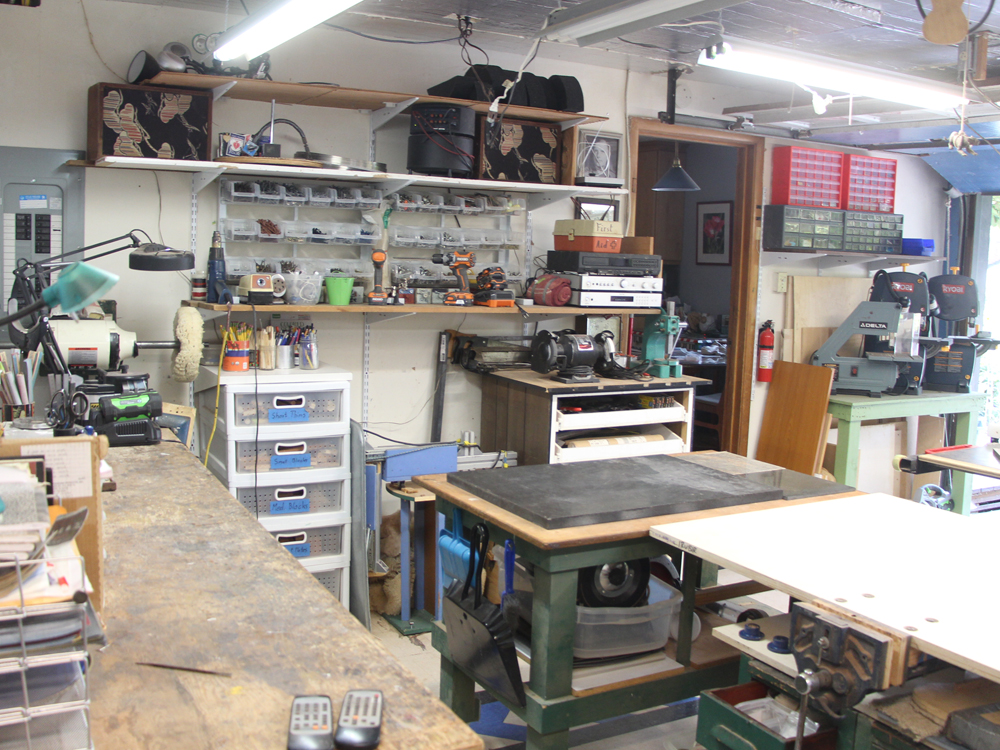 (032)
(033)
(034)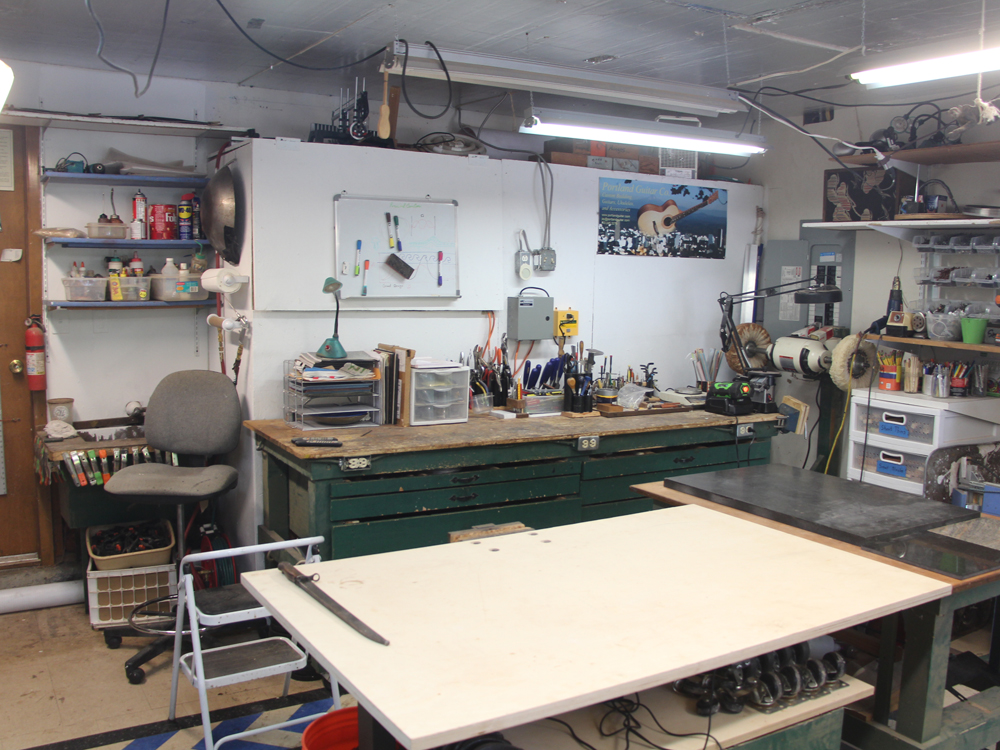 (035)
(036)
(037)
(038)
(039)
(040)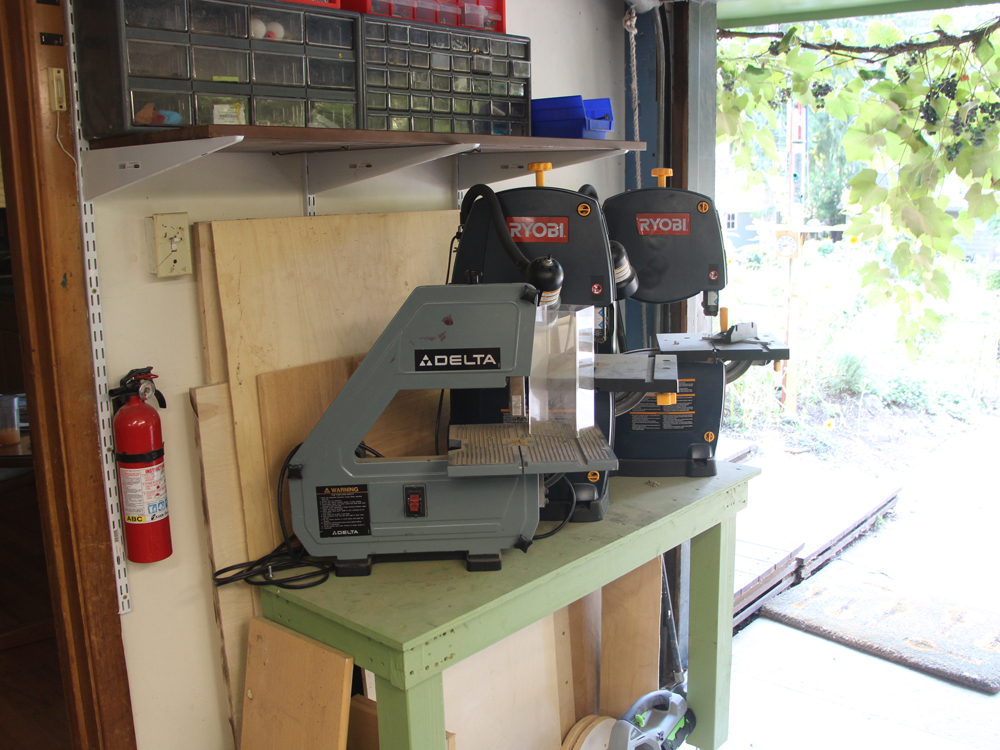 (041)
I have 4 band saws each with a different purpose blade. These I use as convenience tools for quick imperfect cuts.
(042)
One of the strategies I employ is to mount all of my tools on good wheels. This allows me to easily arrange to shop to fit a particular job.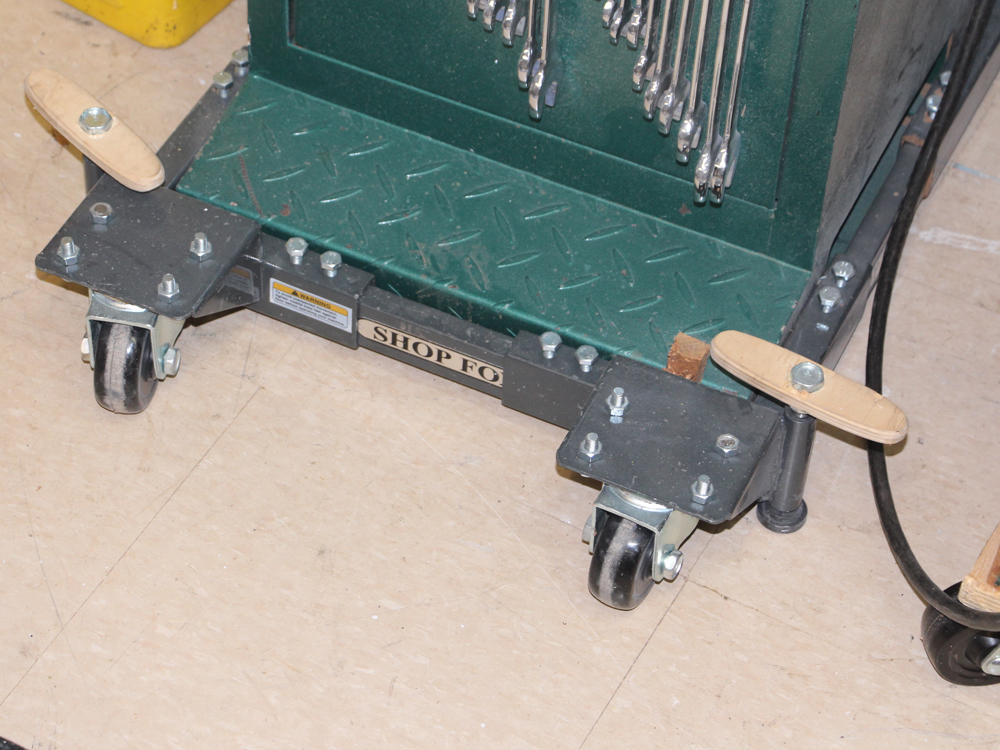 (043)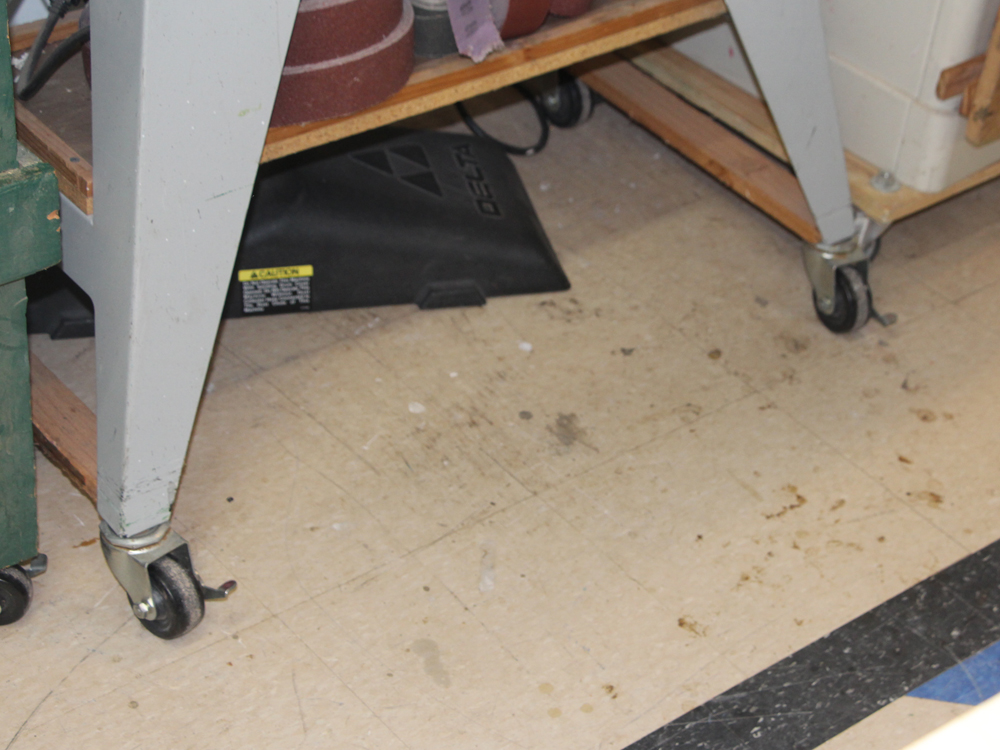 (044)
(045)
Now I'll go around the shop again and show some of the features of each tool.
This is my 18" Rikon Bandsaw... I love my bandsaw. It is versatile and more or less safe.
(046)
I replaced the fence with an adjustable fence to counter blade drift.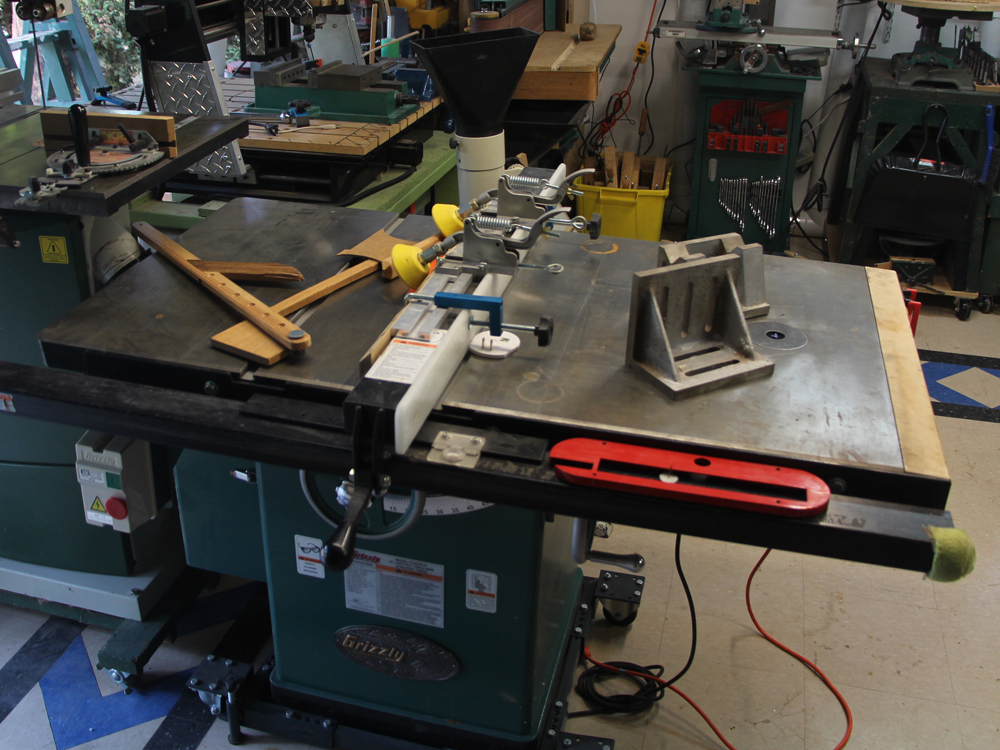 (047)
The table saw... dangerous... I still have 10 fingers 10 toes 2 eyes 2 ears and a nose... I think I'll keep it that way. This tool demands respect. The right side has a convenience router built in.
(048)
I installed these one way wheels from Grizzly that prevent kickback and holds the part firmly in the crook of the fence. They work very well and I feel much more confident when using this tool.
(049)
This is my Next Wave Automation Shark CNC 3D Router. In reality, this is a well made high end toy that can be used with care to create some very intricate pieces. The main things this tool lacks is rigidity, power, and auto stops. Nonetheless, I am very happy with this tool. I bought it because it would fit in my shop, was affordable, and knowing the limitations it would do what I wanted it to. In the end this is good for development and one off work, but would be inappropriate in a production setting.
(050)
When I use it I roll it out.
(051)
I combine the lift table to hold the computer. More on the lift table later.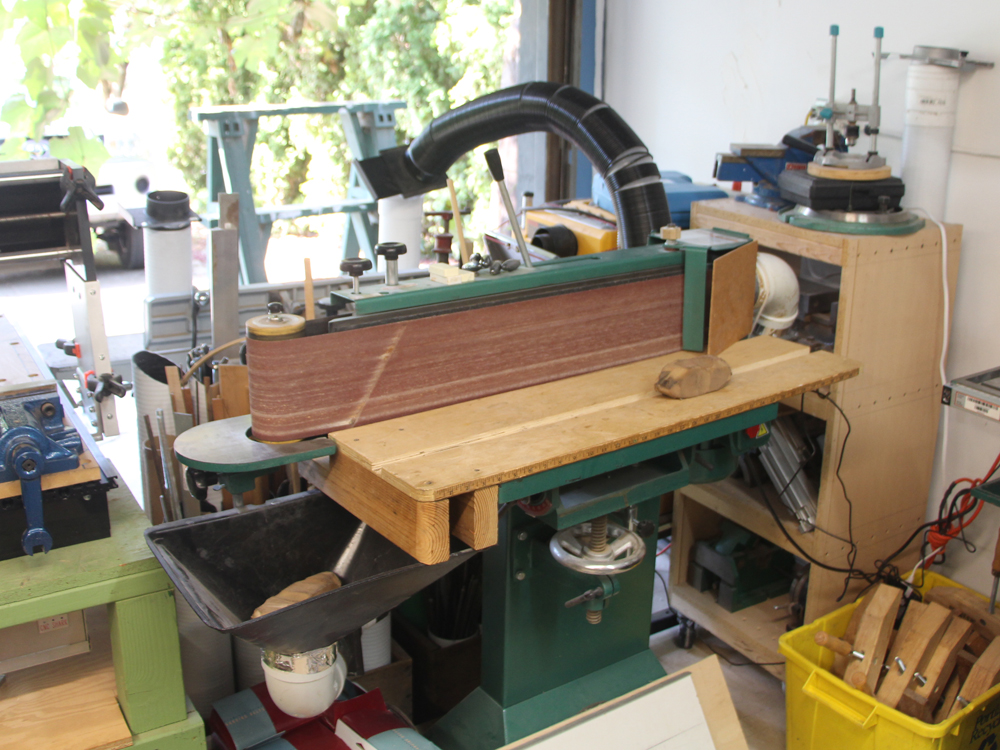 (052)
This is my 6" Grizzly belt sander. Grizzly is generally not the best tool available, but they are well made and the support is good. In my opinion they provide good value for the price and I have been happy with all of my purchases.
(053)
The belt sander can be used in several different configurations.
(054)
The idler pulley is most useful for 3D shaping.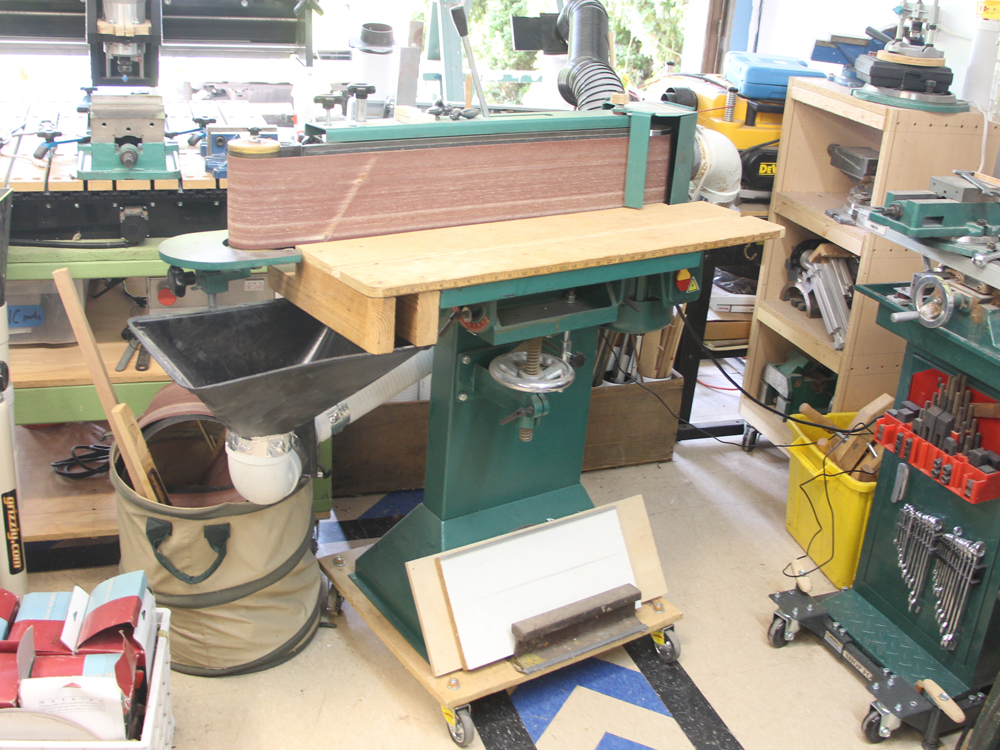 (055)
I can pull the tool out for easy access.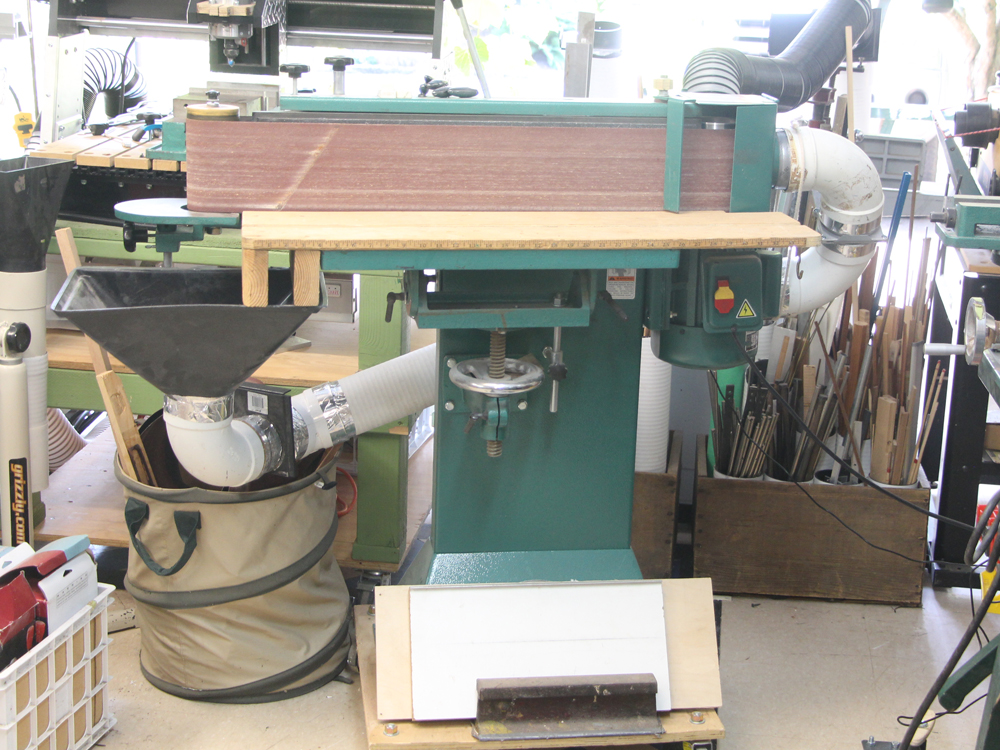 (056)
(057)
I run a 10 foot flexible tube to the stand pipe.
(058)
My shop measures 17 feet by 20 feet and I am always looking for clever places to store tools. It turned out the I had some space behind the belt sander so I placed my small pieces storage tubes behind it. I can get to them when I need them and they are out of the way. Behind them is my seldom used Delta jointer. Nice to have but awkward to store.
(059)
I was also able to squirrel away the Dewalt planer in the back corner. I don't use this tool in my regular lutherie, but it is nice to have when I need it.
(060)
Next to the planer is a very sturdy set of shelves I use to store vices.
(061)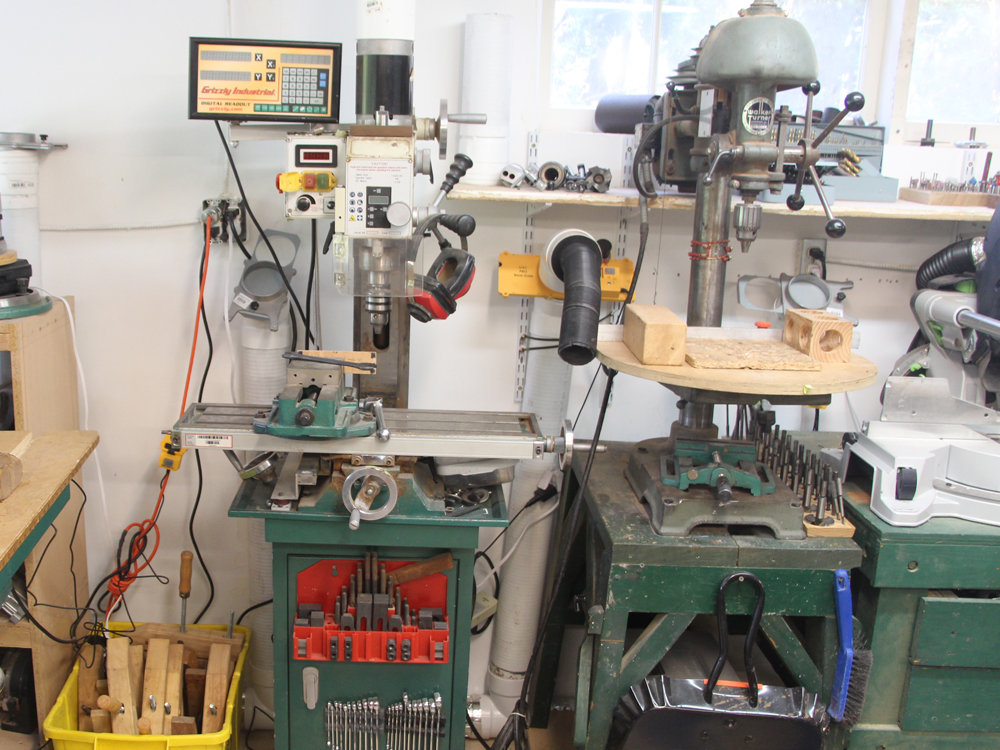 (062)
On the left is a Grizzly minimill with a digitized XYZ table. This tool can work at the limits of tolerance of a piece of wood. When I started using this for the money shots the quality of my work significantly improved. It is not just a fancy drill press... it changes the may I work.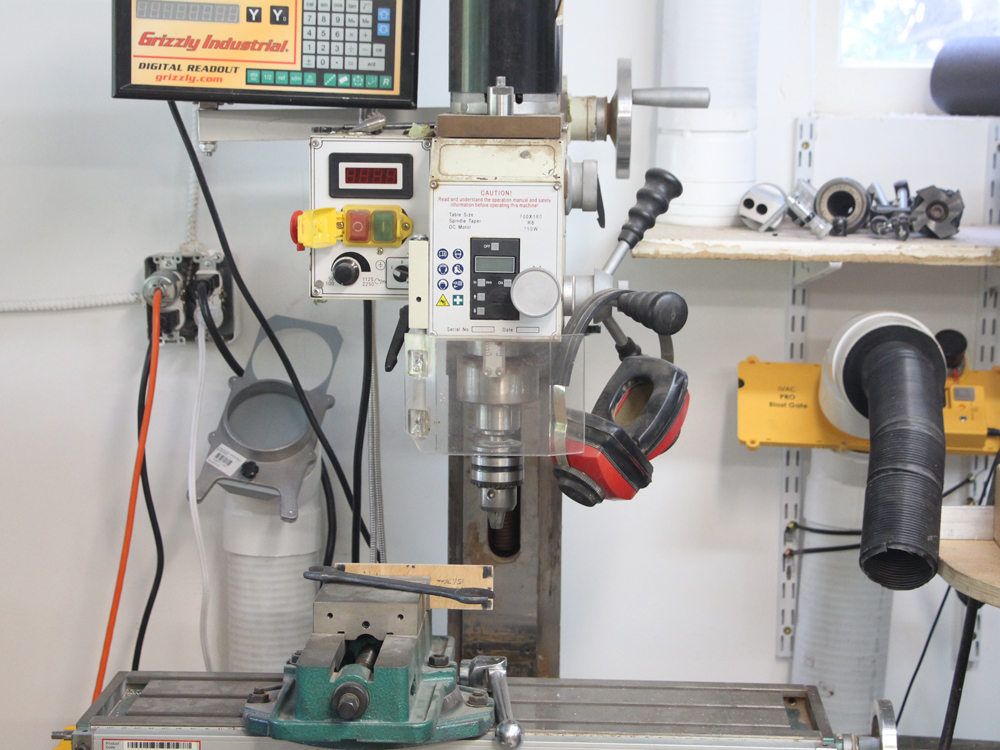 (063)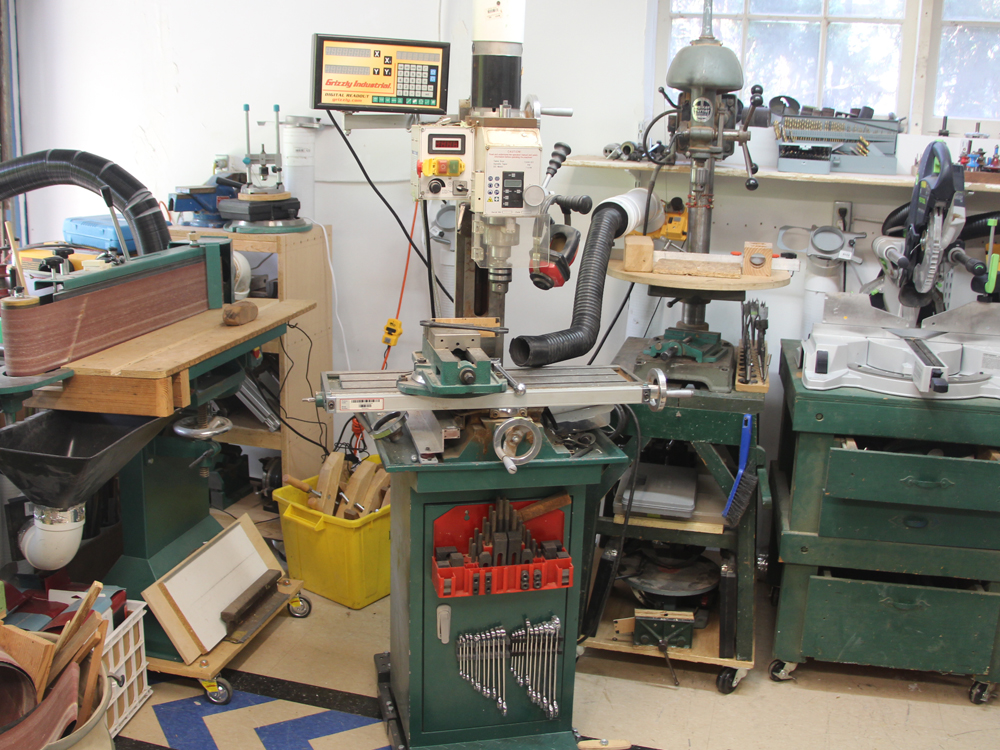 (064)
It rolls out for easy access.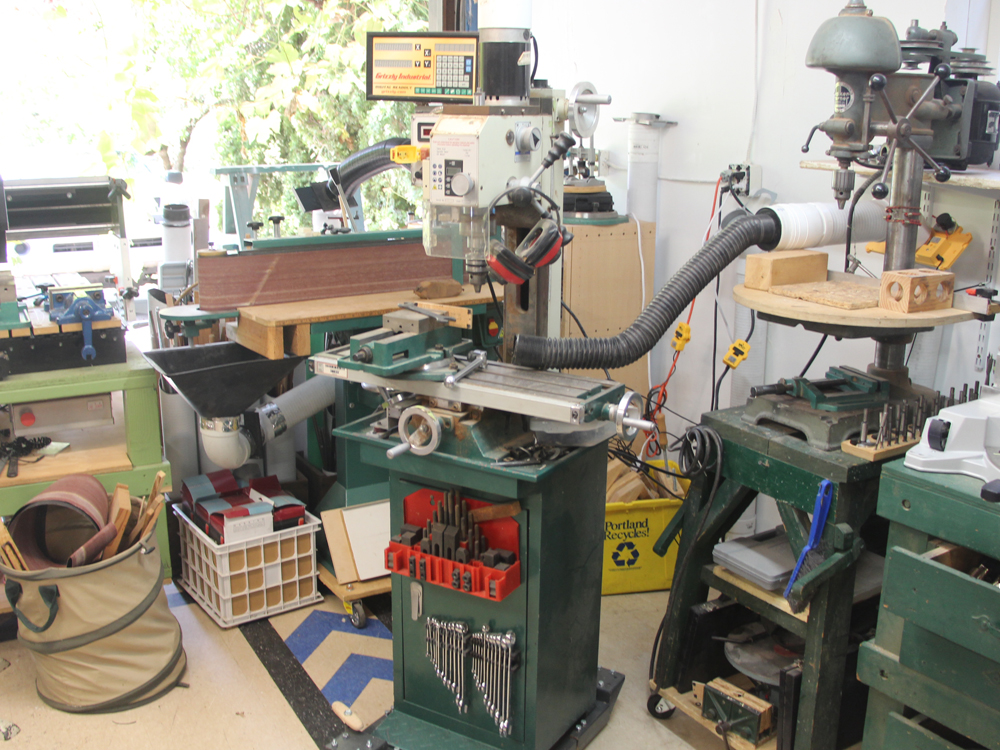 (065)
The vacuum tube is shared with the drill press.
(066)
(067)
I mounted some of the useful tools on the front of the stand.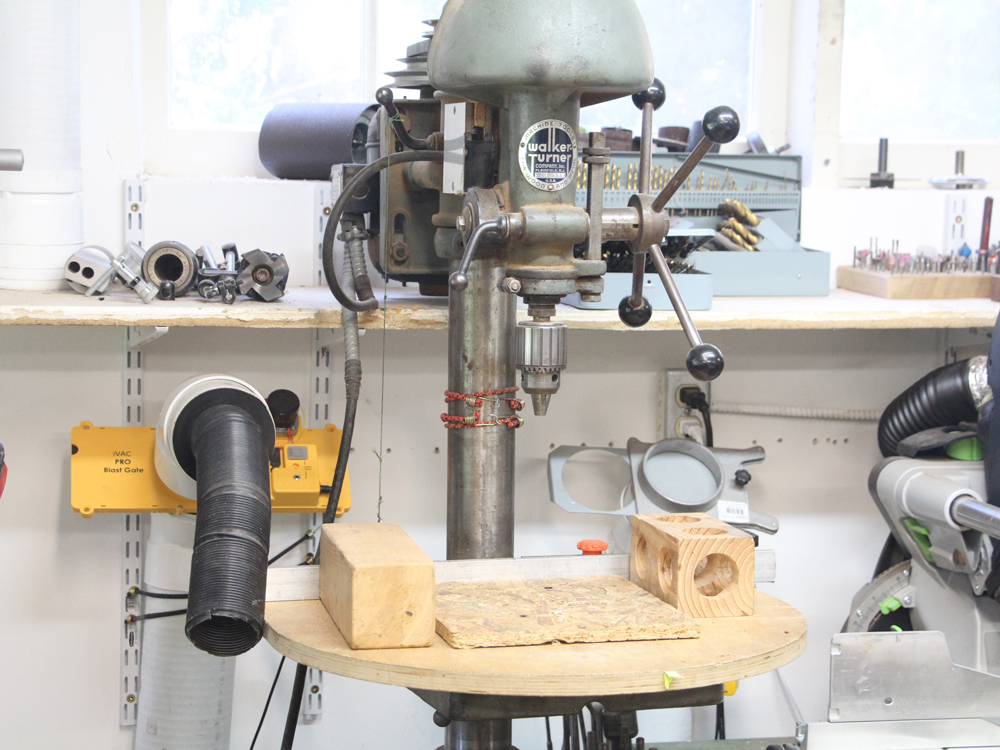 (068)
This is my Grandfather's Walker Tuner Drill Press circa 1930. Lot of spirit in this old tool.
(069)
(070)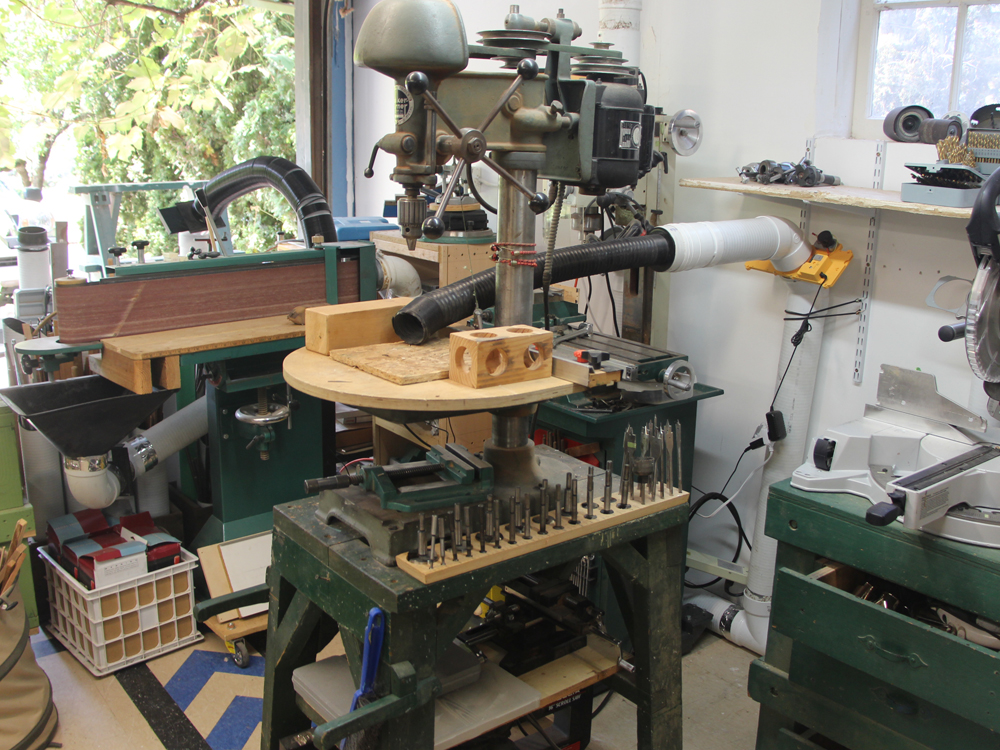 (071)
I can usually use the tool while it is against the wall, but some times it is convenient to roll it out.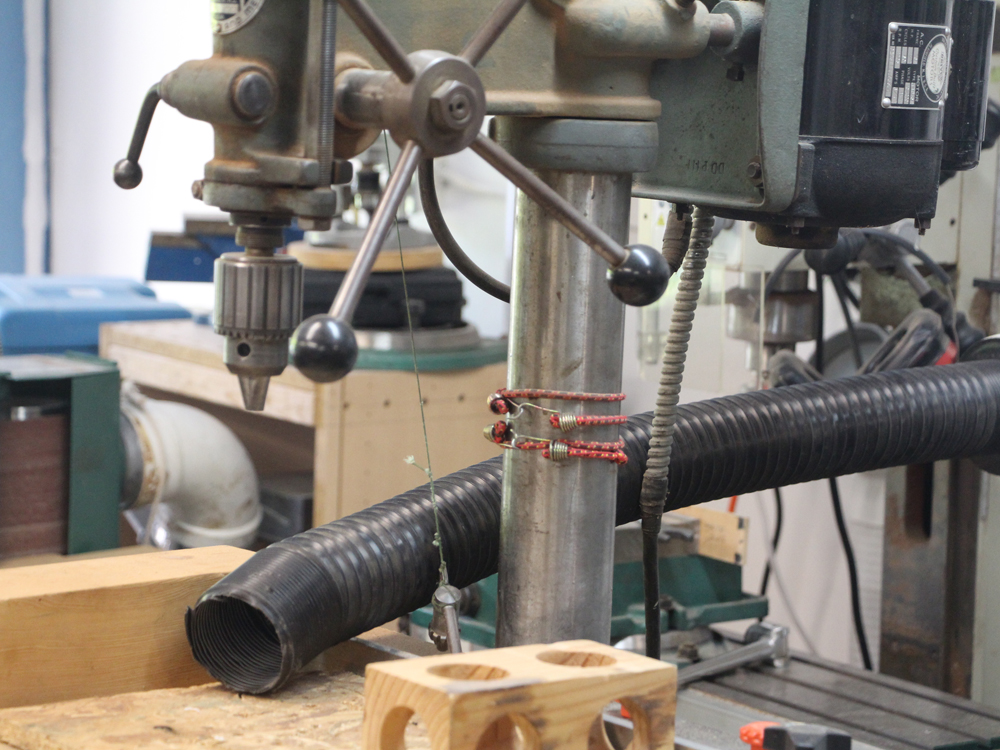 (072)
It shares the vacuum tube with the mill.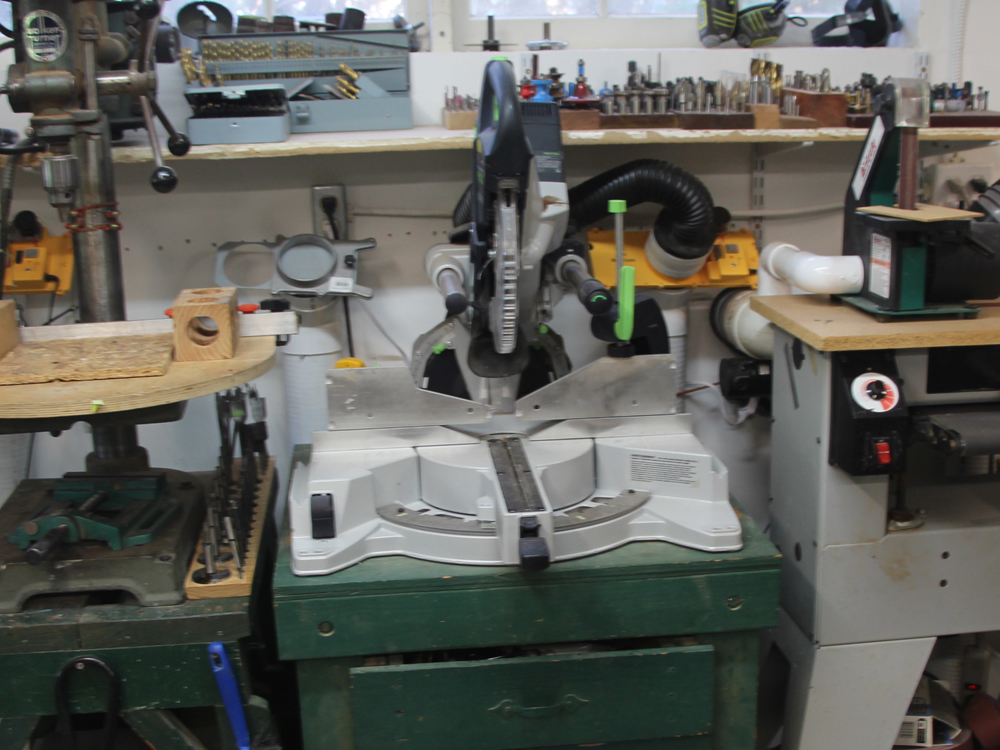 (073)
This is my Festool Miter Saw. What do I say... I think it is the absolute best.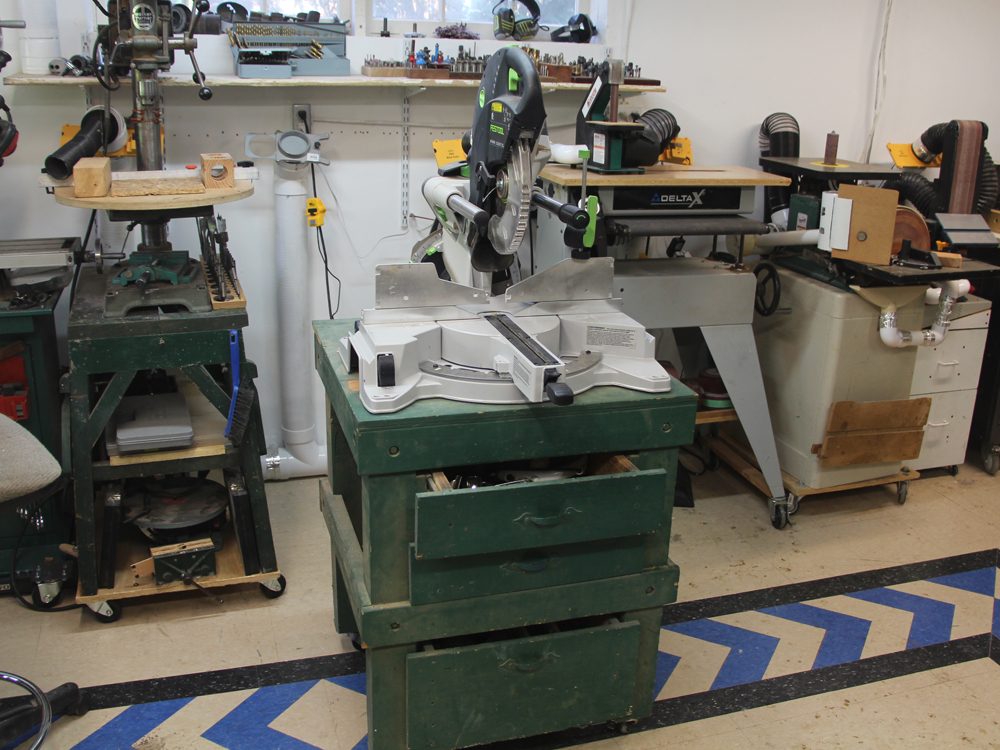 (074)
When cutting long boards I have to pull is out.
(075)
(076)
(077)
This is my modified Delta drum sander. In its resting position I replace the top with a modified board that allows about 1/32 of an inch of the drum to stick through. What this lets me do is sand small pieces of wood with great care, safety and precision. I have also placed a small convenience belt sander on top of the platen.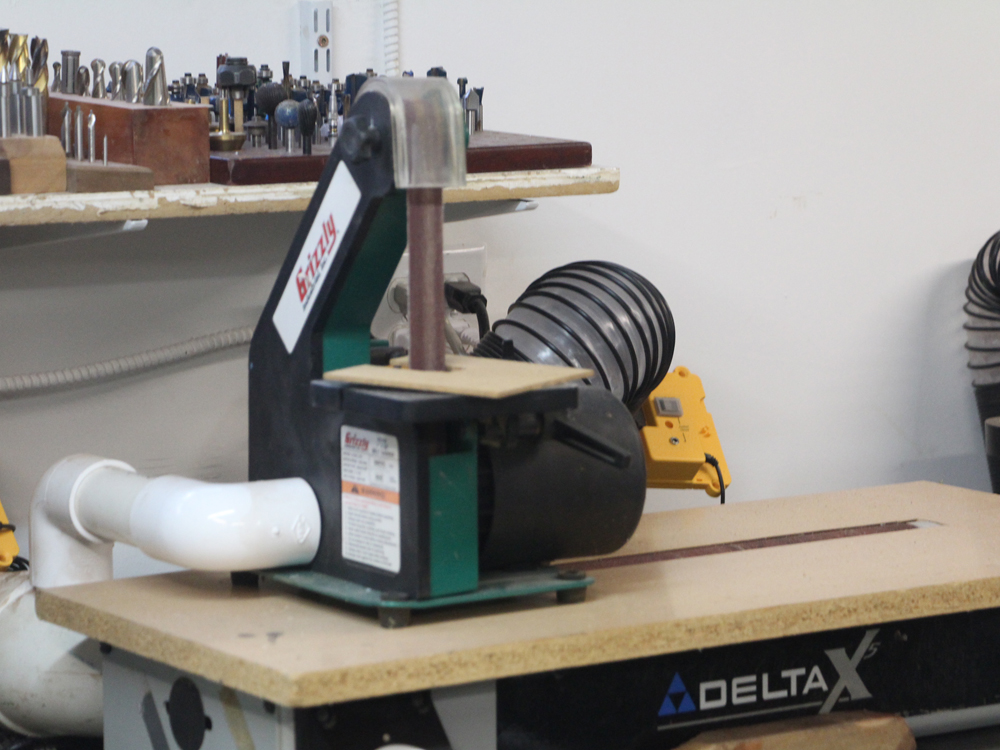 (078)
(079)
Everything is on wheels.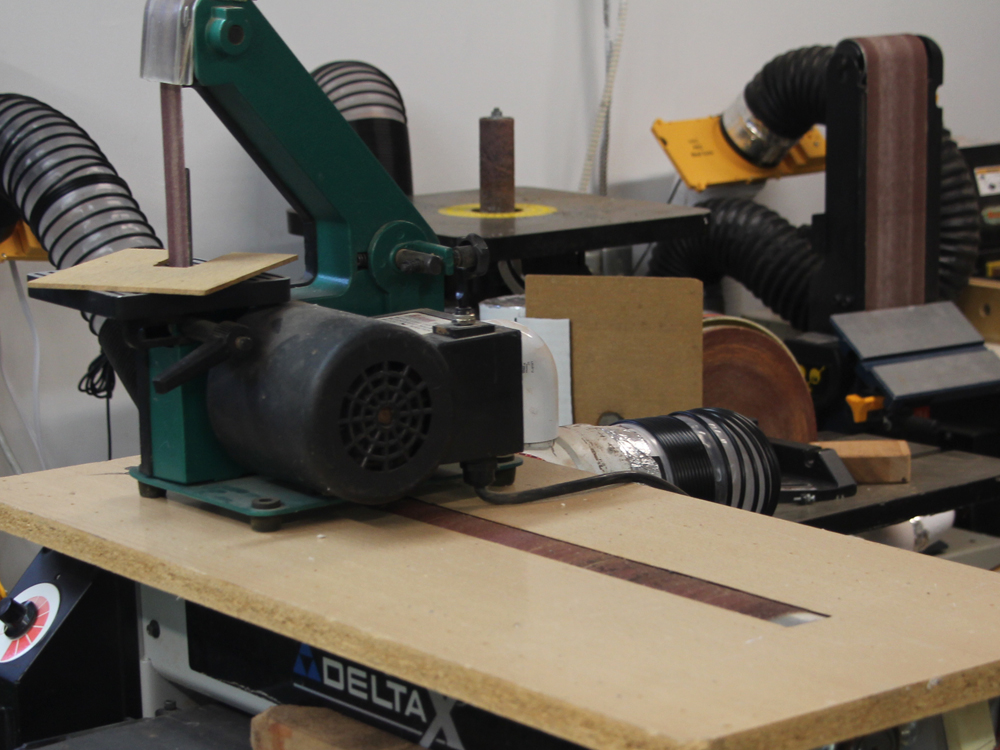 (080)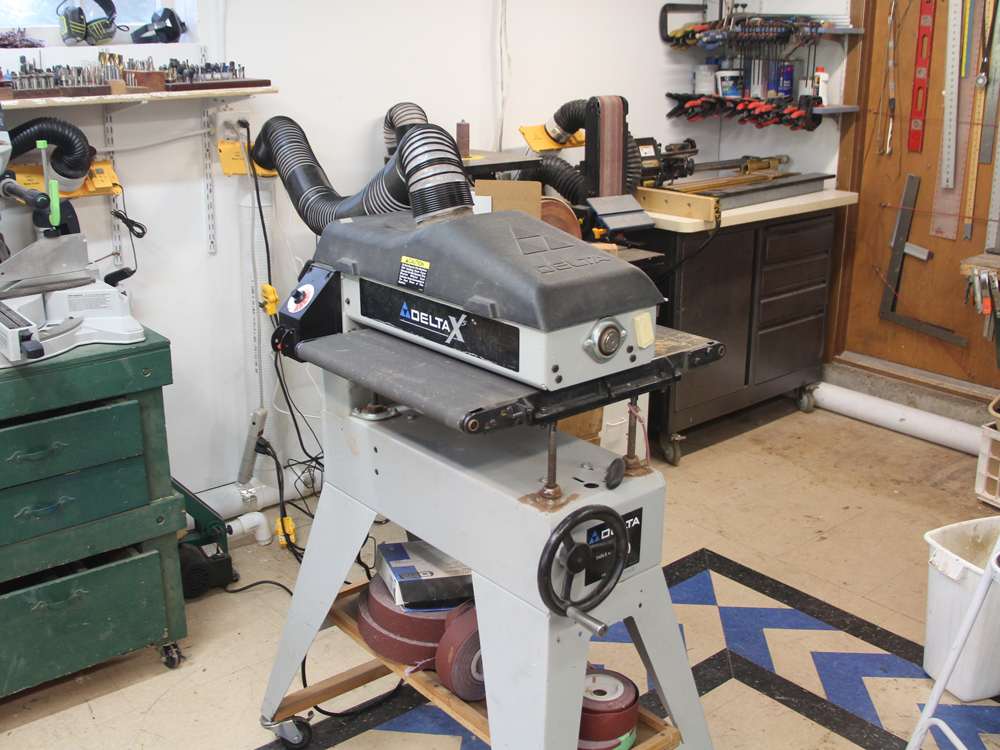 (081)
When I replace the platen with the standard dust collector the tool is now a fairly good drum sander. My only complaint is the reliability of the lift table.
(082)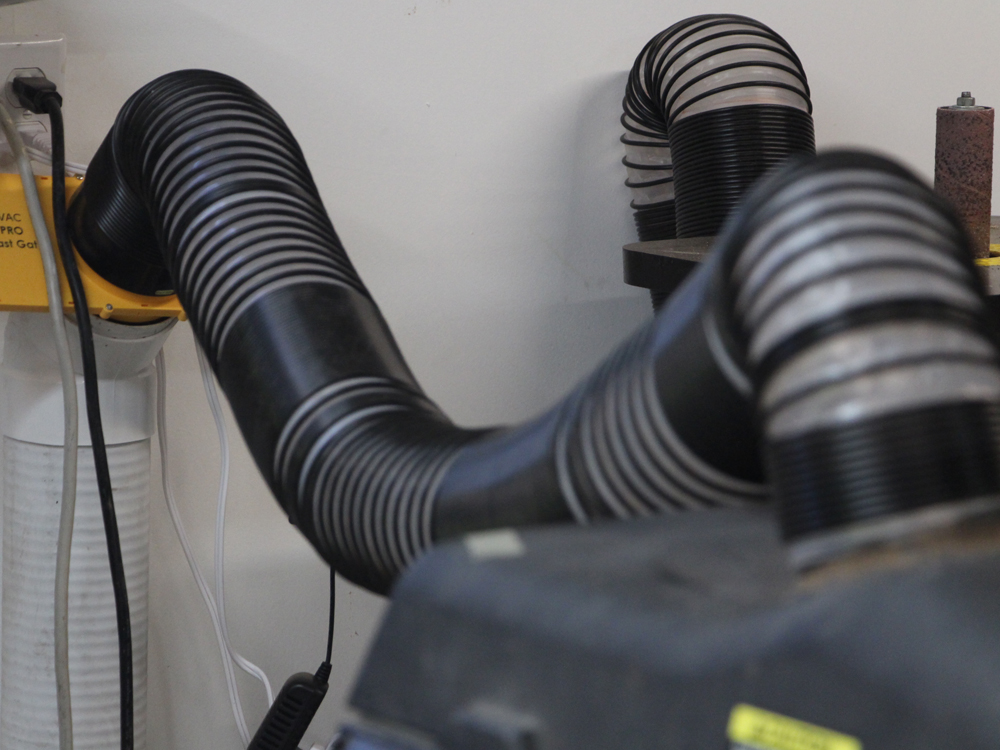 (083)
A 10 foot flexible dust collector tube lets me move the tool around.
(084)
My Grizzly 12 inch disk and oscillating sander.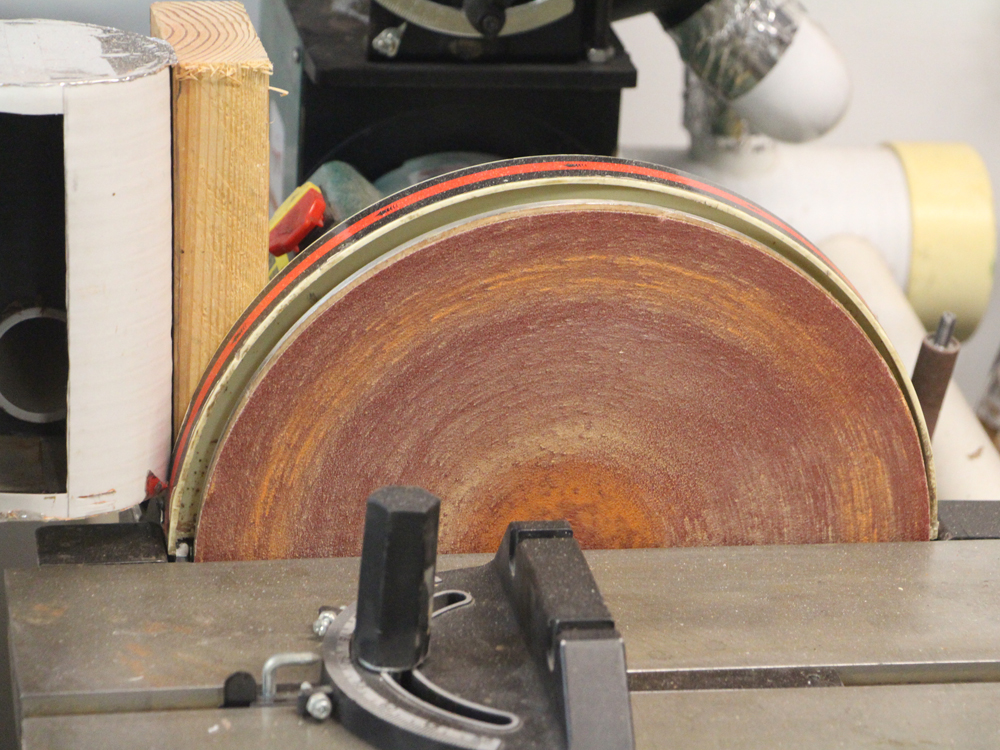 (085)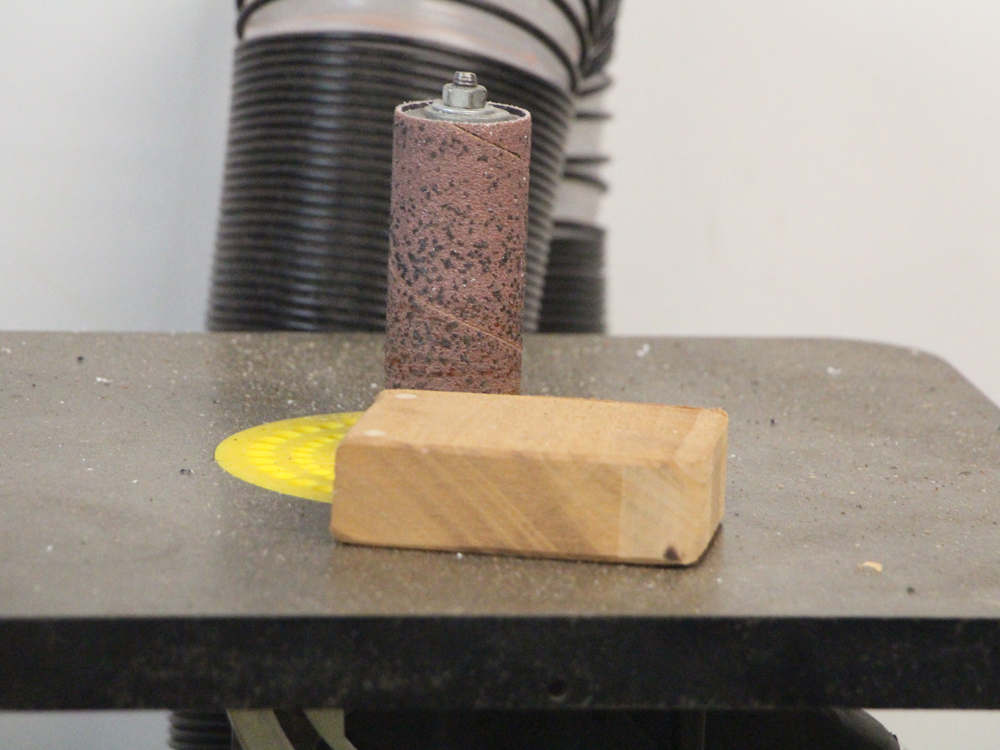 (086)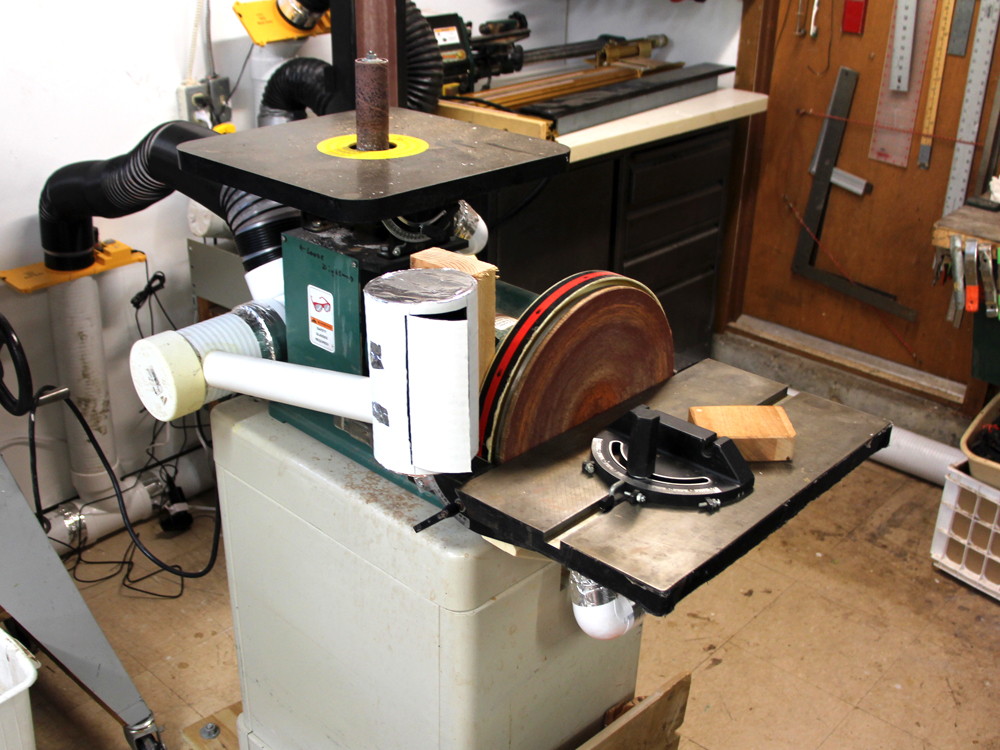 (087)
To use the oscillating sander safely I need to roll the tool out.
(088)
Trying to collect dust on this tool is a challenge.
(089)
(090)
This is a Ryobi 4 inch belt sander that use mainly for making bevels and such.
(091)
(092)
This is my main router table.
(093)
It must be rolled out to use.
(094)
It has a Woodpecker precision fence.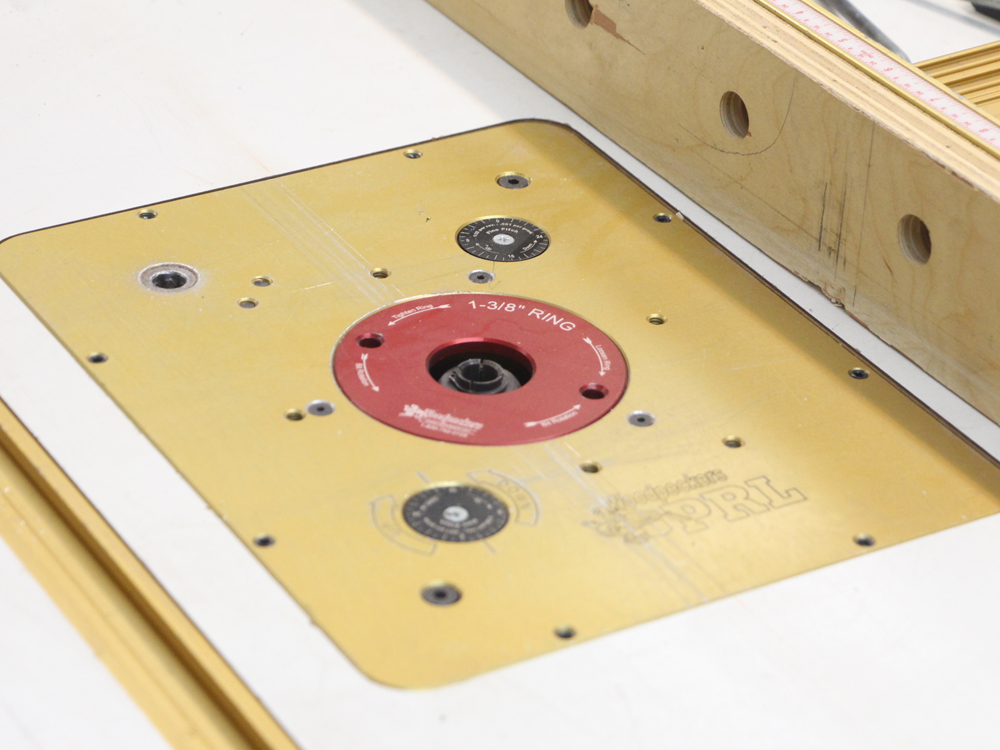 (095)
It has a precision lift table and a really big Porter Cable router.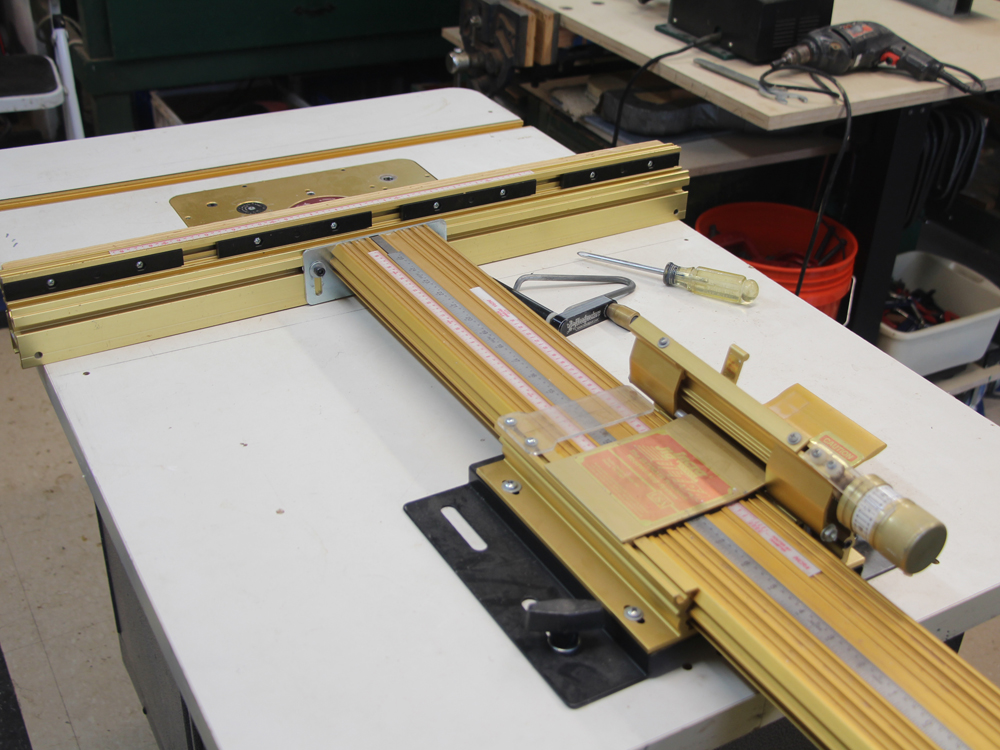 (096)
(097)
Storage and organization are a constant problem. I try to keep things around that I actually use and find new homes for the rest.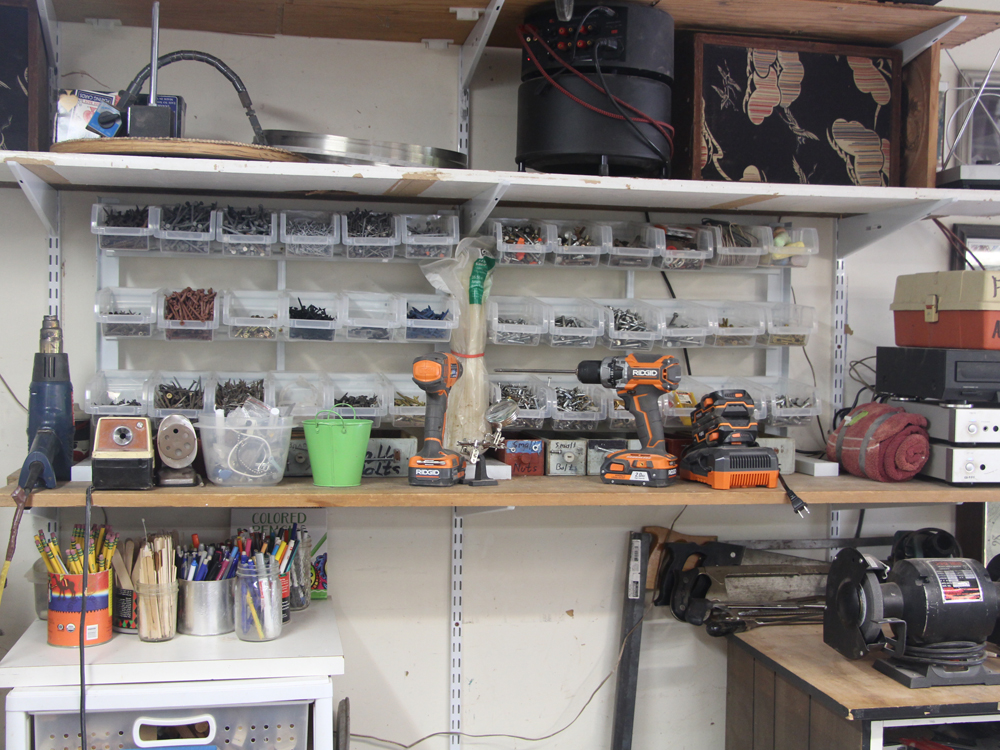 (098)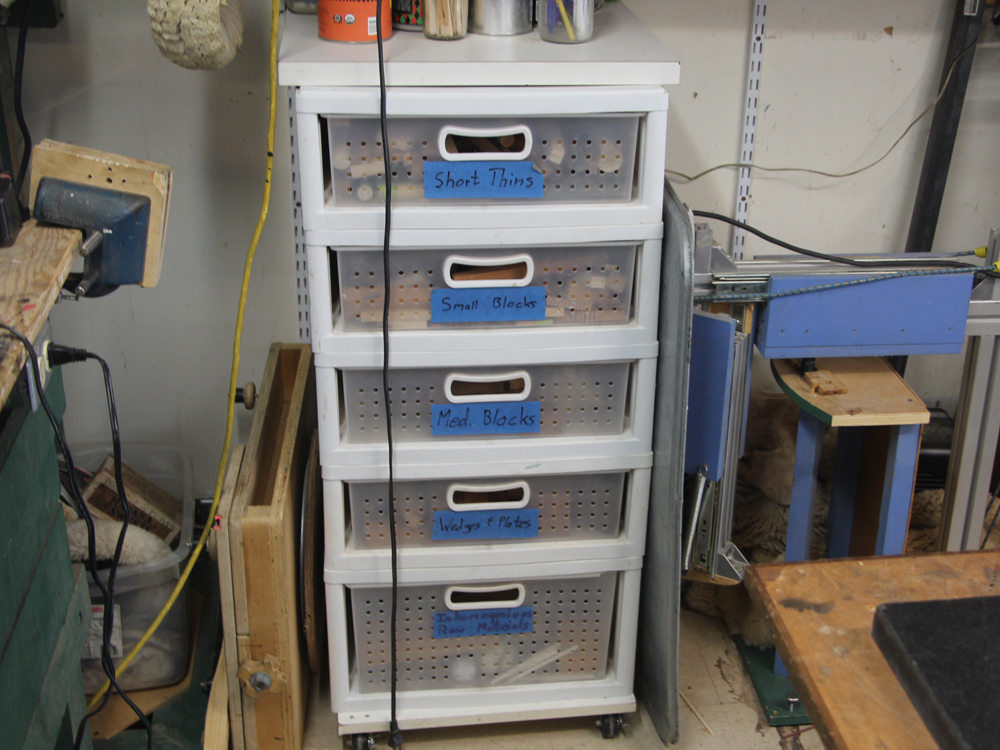 (099).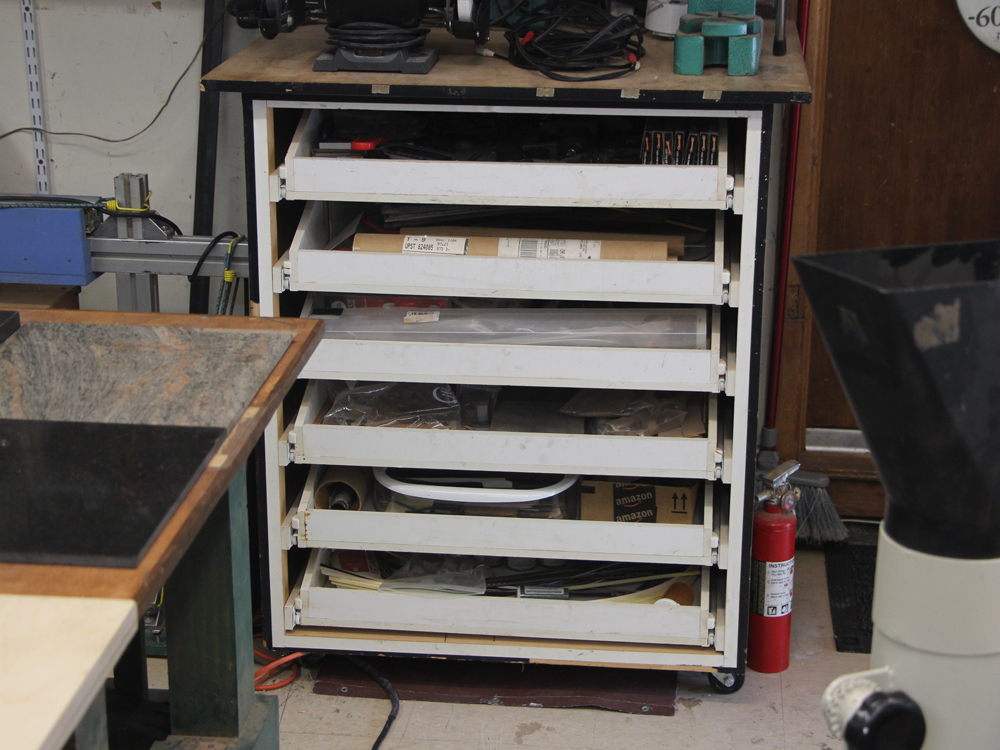 (100)
(101)
Here are a few more convenience tools, my stereo, and an important and seldom used kit. Safety is the most important thing in the shop! Dead Stop! No Discussion!
(102)
The picture in the upper left is of Richard Feynman, one of my personal heros. The Army officer in the picture on the right is my other personal hero, my father. He passed from Alzheimer's several years ago. The final picture is the first dollars I earned making guitars. I like to keep these reminders close at hand.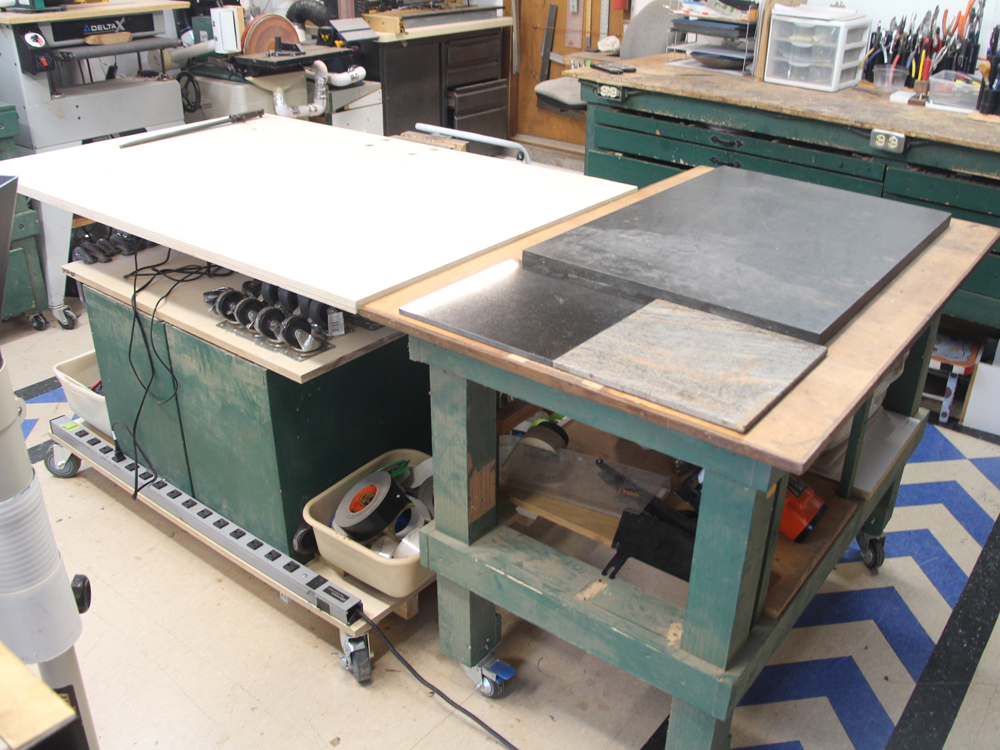 (103)
This is my central work station.
(104)
The granite slab is useful when you want to make sure its flat.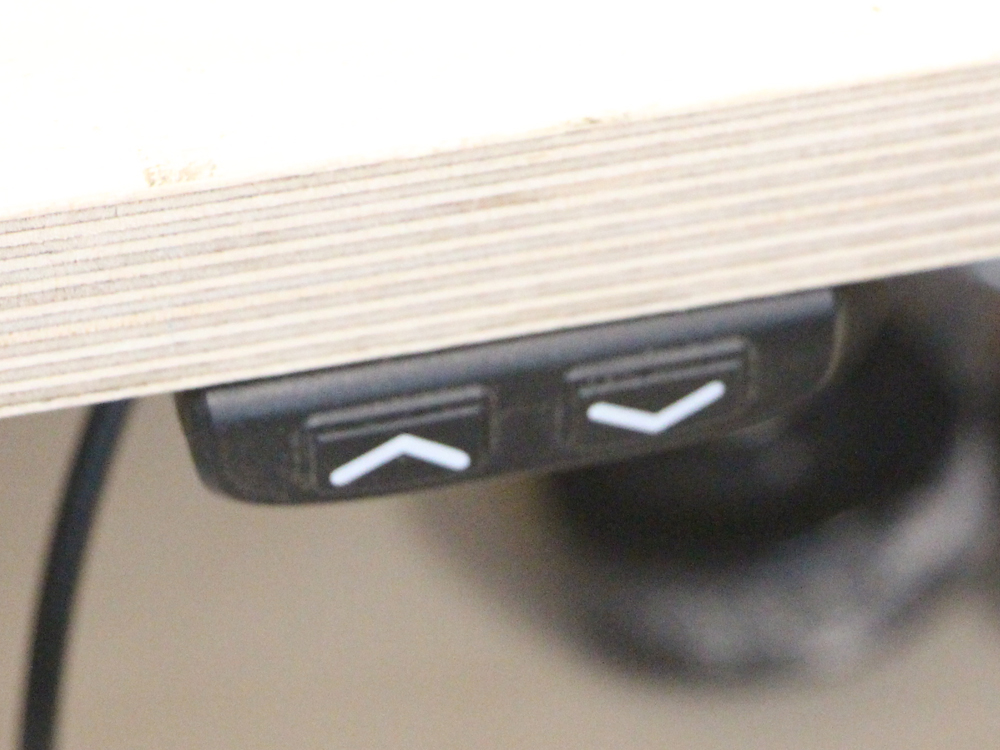 (105)
This is the secret button on the other half of the station.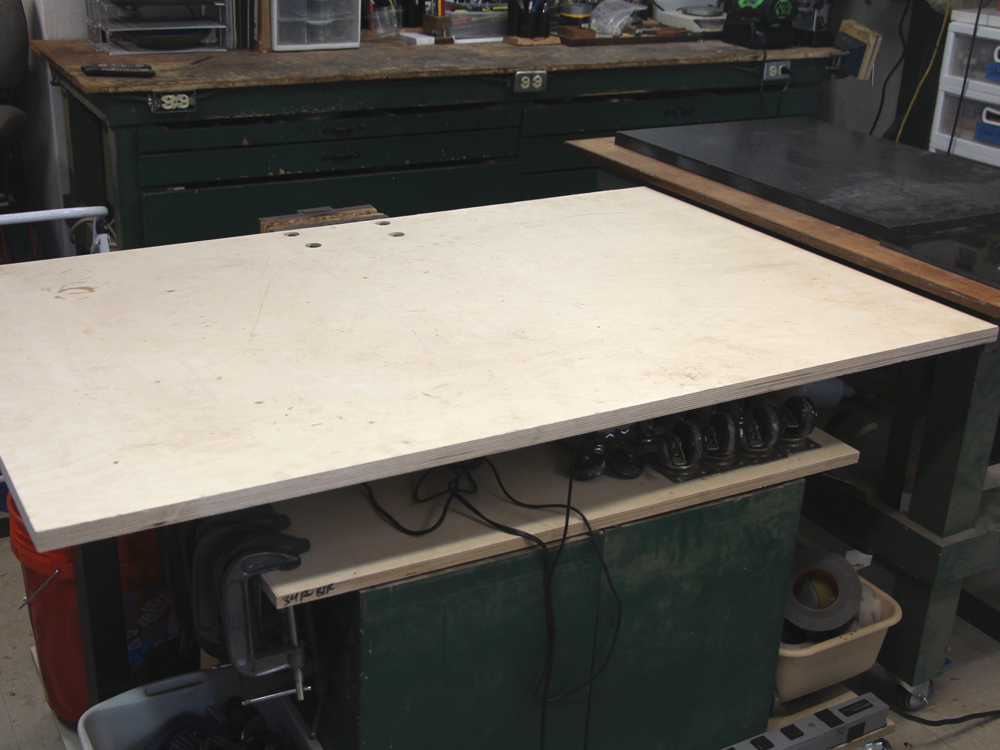 (106)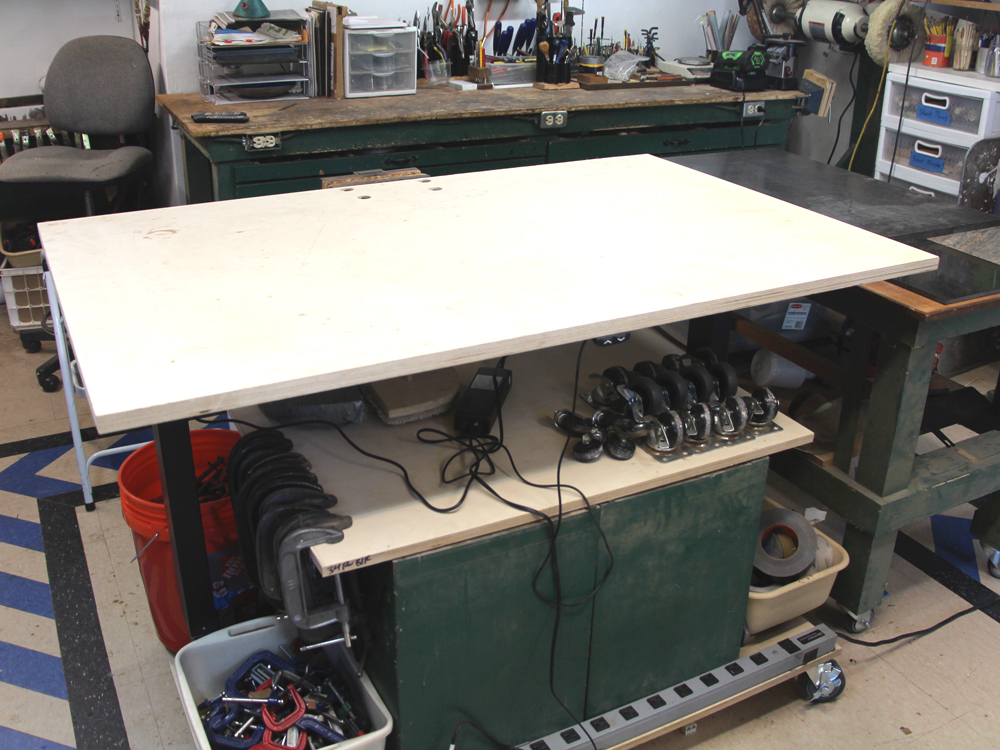 (107)
(108)
(109)
It is often convenient to have a work surface positioned at different heights. I combined the element of my old table with a lift mechanism to create this new table.
(110)
In the big white box is my mechanical room. To get into it I have to roll the table away, but it has good wheels. Inside is a 2400 CFM Grizzly dust collector and 90 gal compressor. The room used to be so loud you could not talk. This brings the noise down to a conversational level.
(111)
The dust collector pipe comes out at the floor and follows the north wall and the west wall.
(112)
The strategy I have taken is that I expect tools to move around. So, I built a dust collection system that always has a port at hand. These are called stand pipes for good reason. I put a metal blast gate on the unused pipes.
(113)
This is a good time to describe the automated nature of my dust collection system. What you see here is an Ivac Pro automated blast gate. When the device detects that the tool has been turned on, by sensing the magnetic field around the power cable with a clamshell sensor, a signal is sent to the dust collector to turn on, and then a signal is sent to the blast gate to open. When the tool is turned off the blast gate closes and the dust collector runs for another 15 seconds to clear the line then turns off.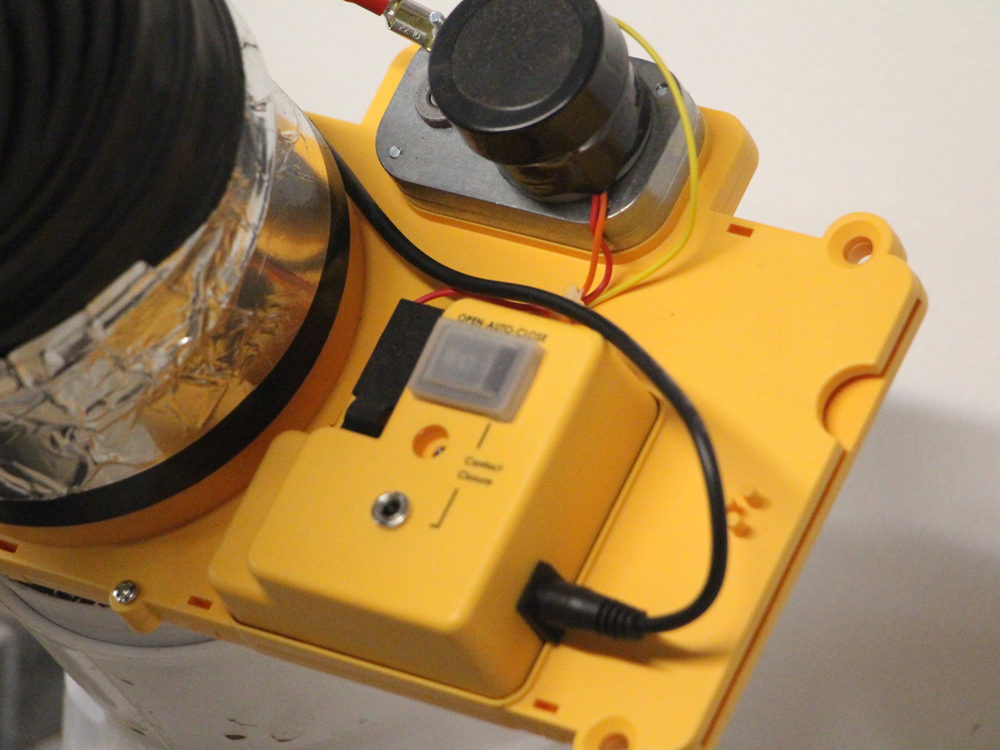 (114)
This makes collecting dust as convenient as it is going to get since I don't have to think about it when I go to a tool.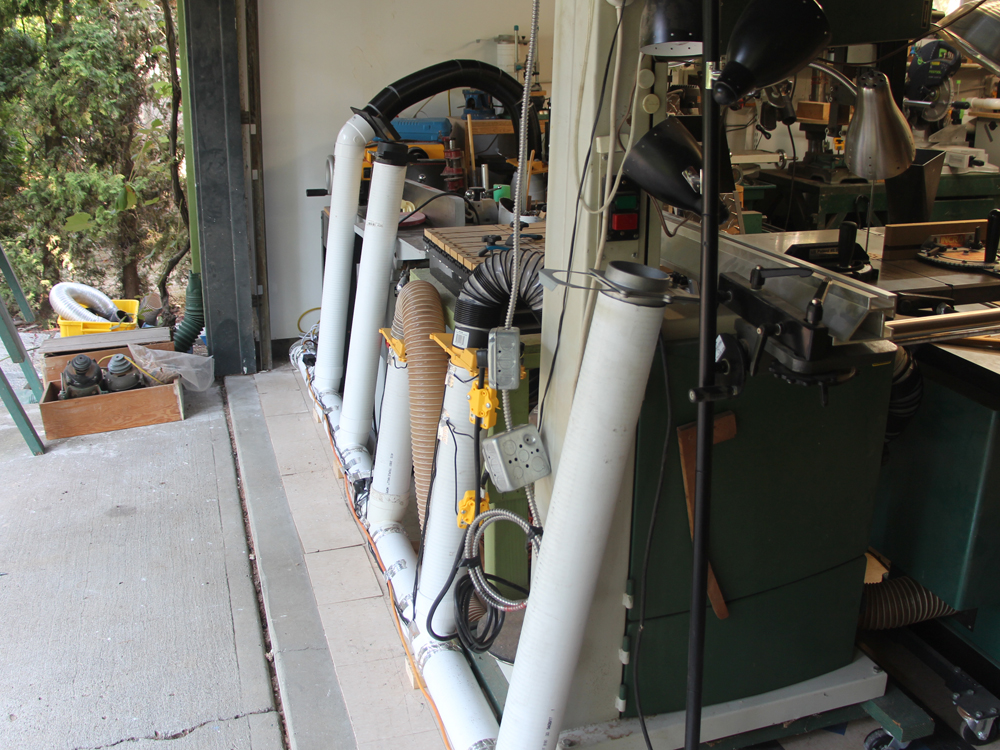 (115)
This is the west wall (Shop door open) and you can see the row of stand pipes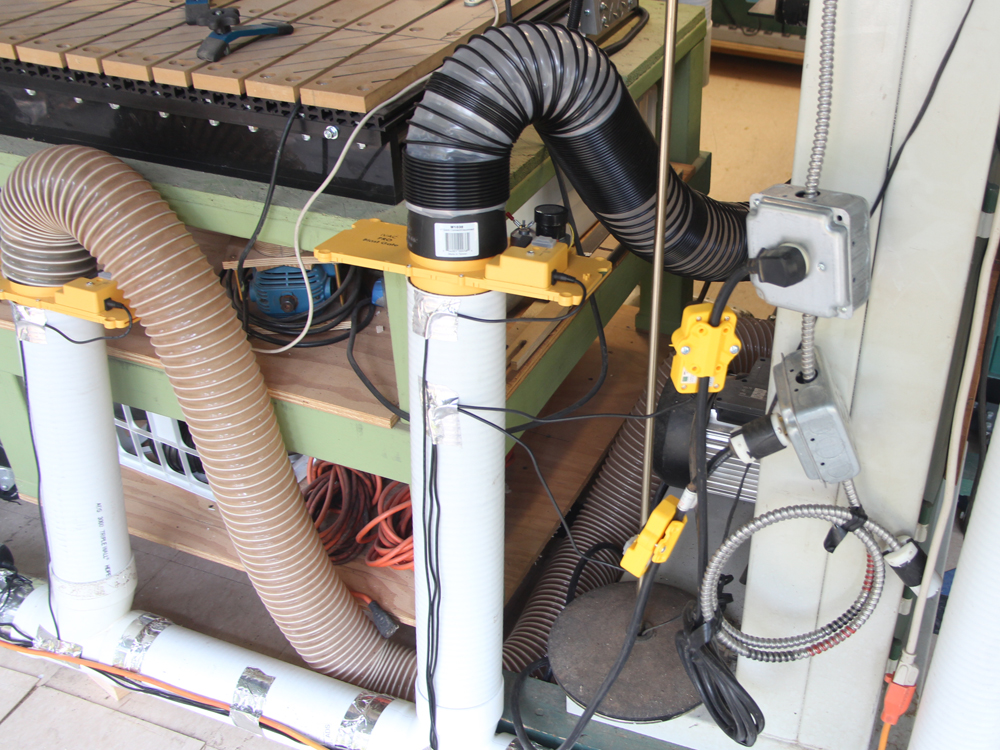 (116)
This is a close up of the pipes going to the band and table saws.
(117)
I bought this on a whim thinking I'll make my own bridge pins... someday.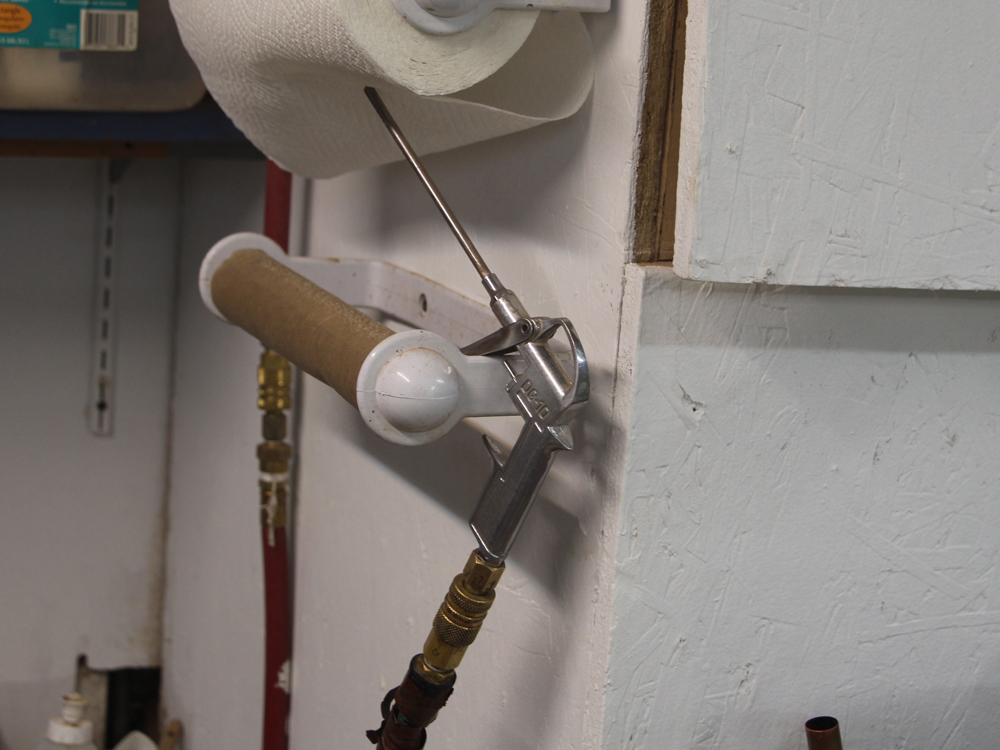 (118)
My air gun.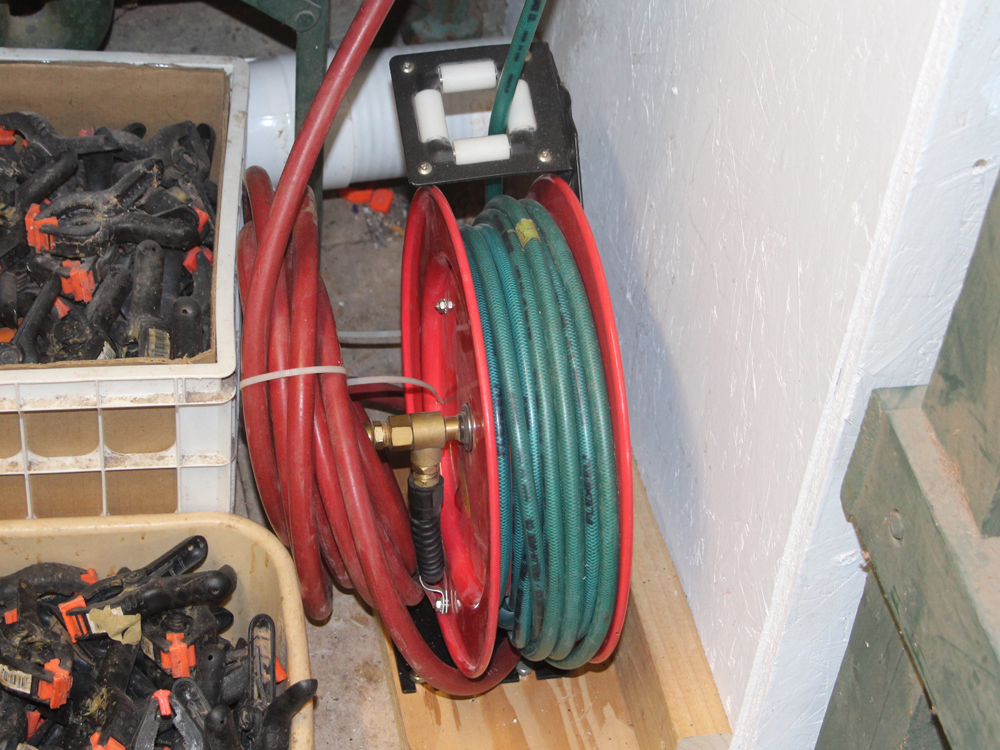 (119)
I have about a 30 foot reach.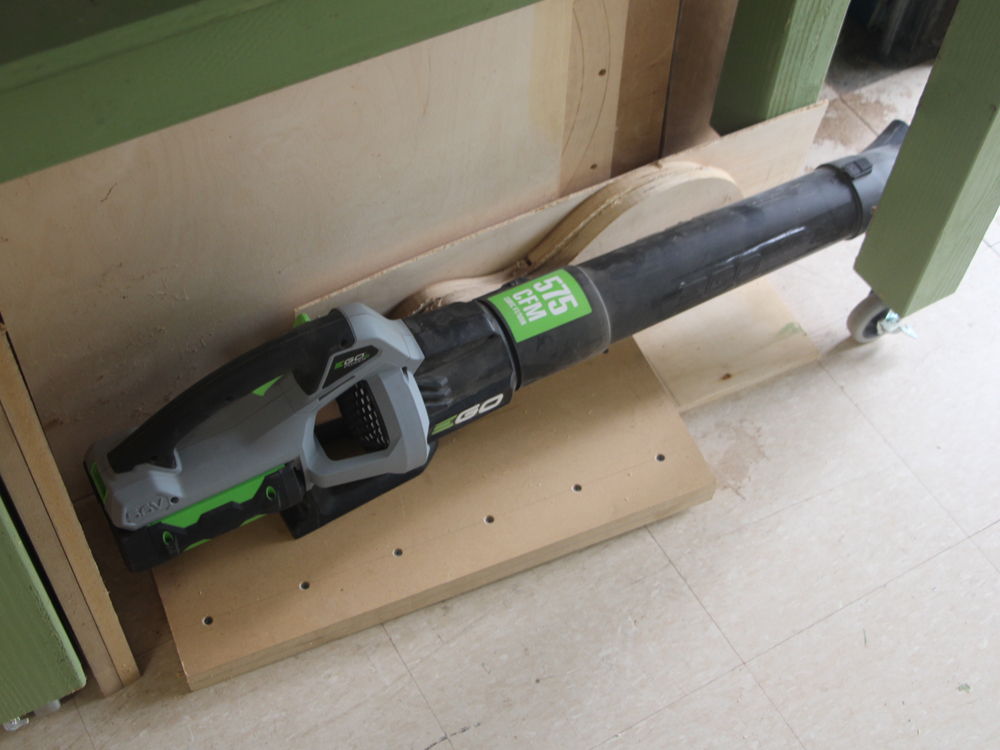 (120)
And here is my latest discovery. I've been waiting for years for battery technology to mature... well this is an e-Go 56 volt 575 CFM blower that I use to blow out the residual dust in the shop. Since it is cordless it is always ready to use and so the shop should stay cleaner.
(121)
The tape box found a niche.
(122)
I have containers of clamps,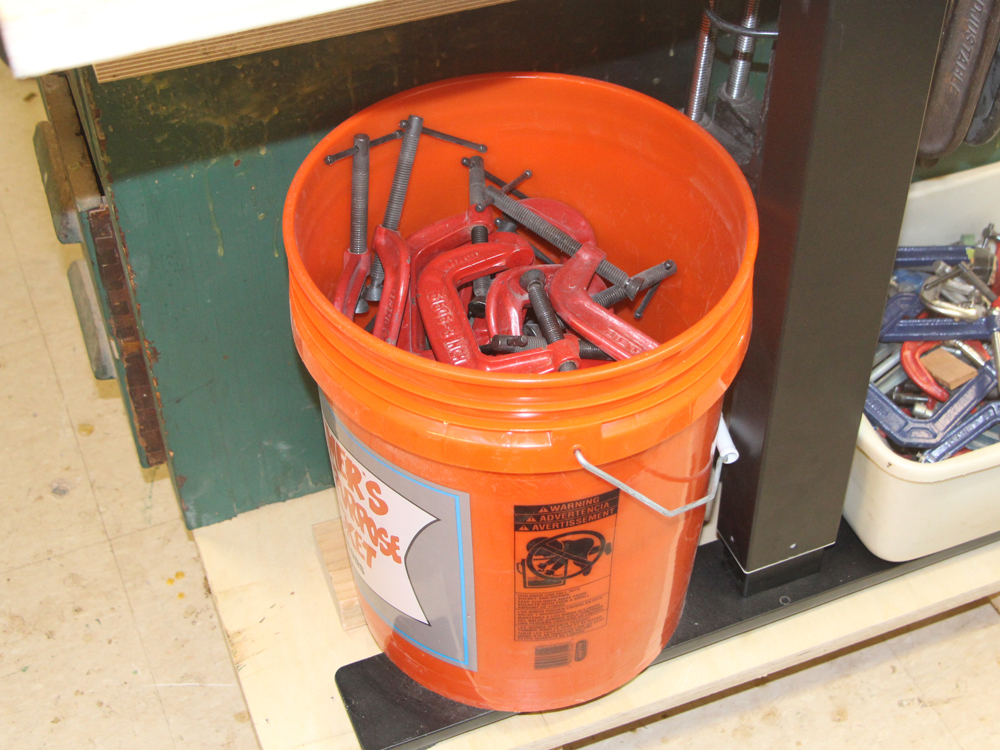 (123)
And buckets of clamps,
(124)
And boxes of clamps,
(125)
And bins of clamps...
I have a bit of a thing for a good clamp, mo clamps, mo better...psst, seen a good clamp recently?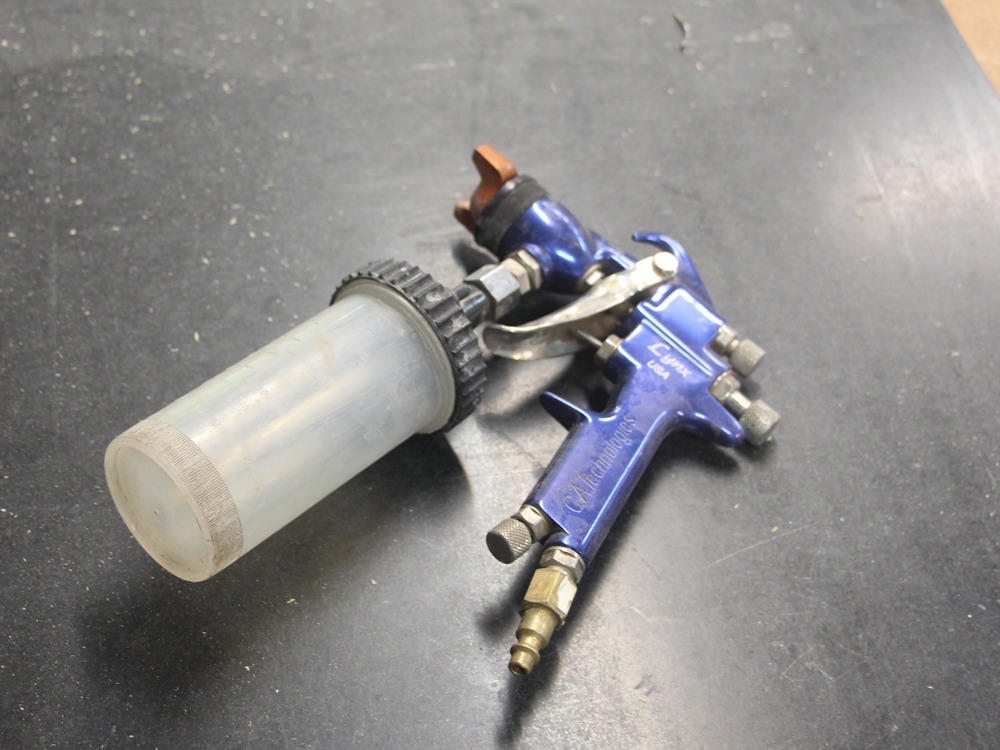 (126)
More on this later.
(127)
My Universal Bindalator found a little niche for now.
(128)
This is my Fox buffing wheel squirreled away until it is needed. Believe it or not, this is the most dangerous tool in the shop.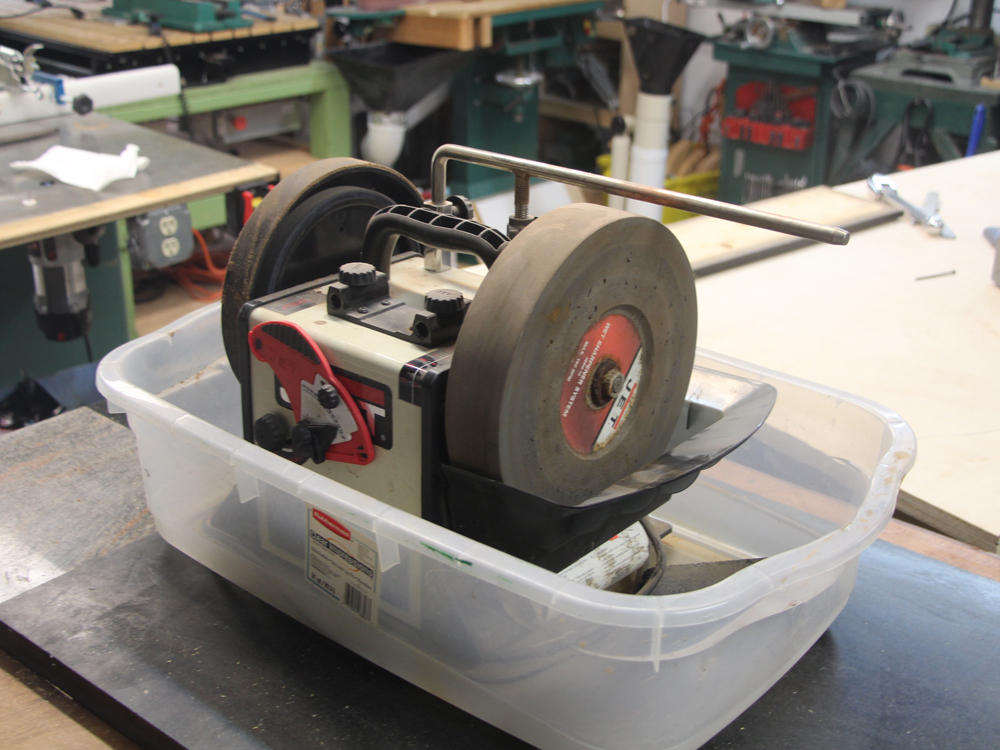 (129)
This is my Fox sharpener... gotta love a sharp edge.
(130)
There is always an occasion where a movable dust collector port comes in handy.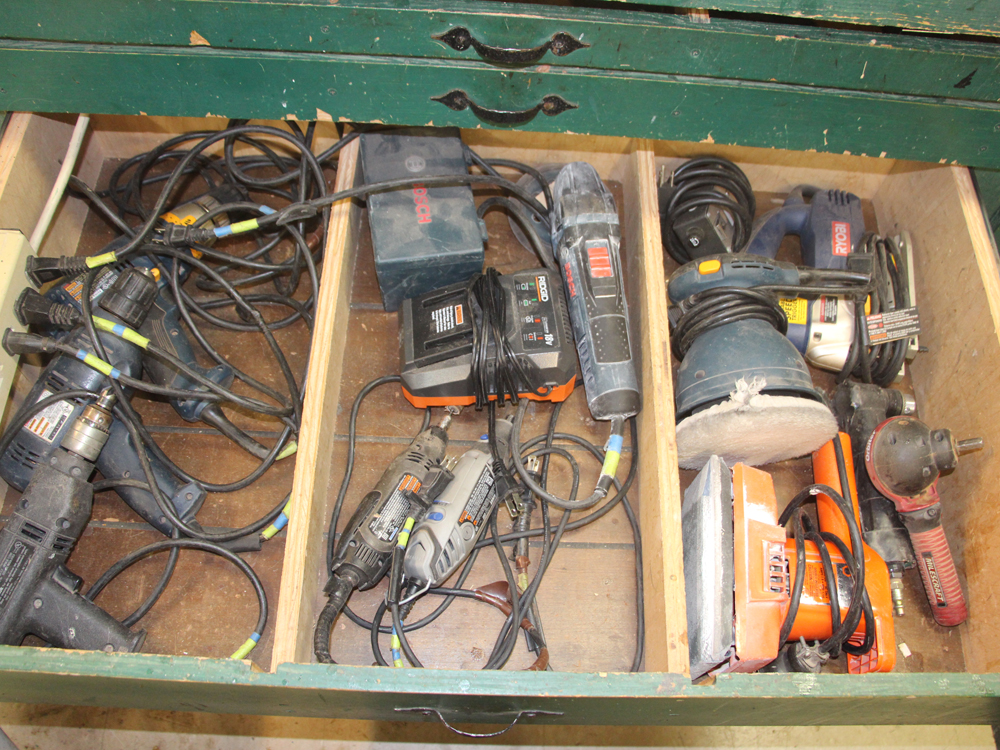 (131)
I attempt to keep some kind of order in my bench draws. This is the spaghetti draw named for good reason.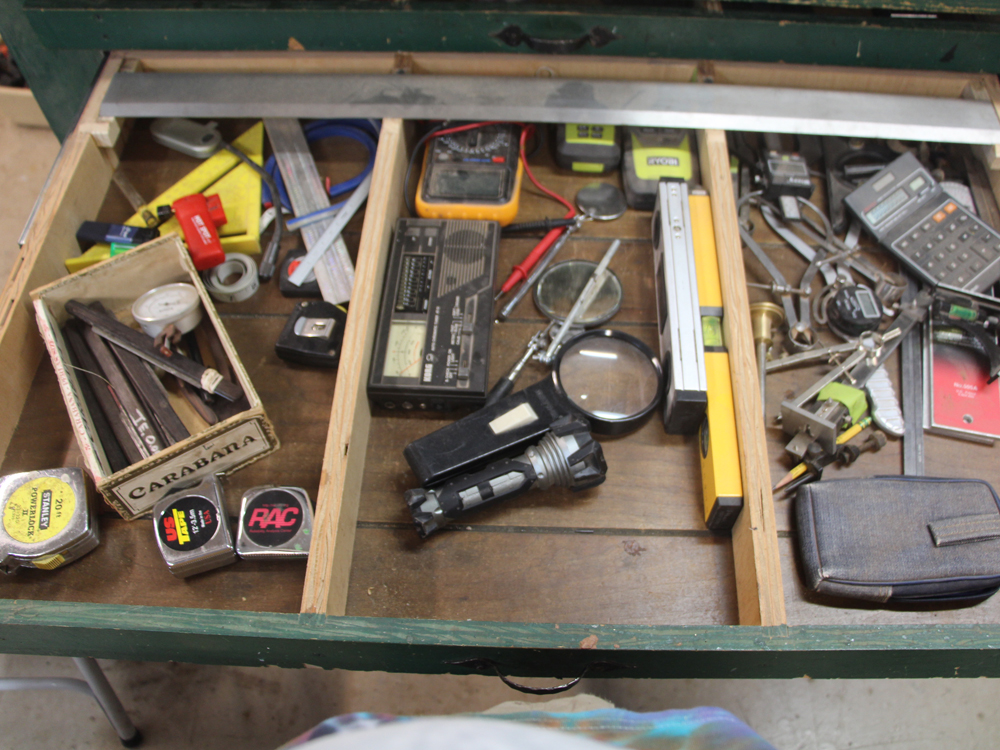 (132)
All things measurement.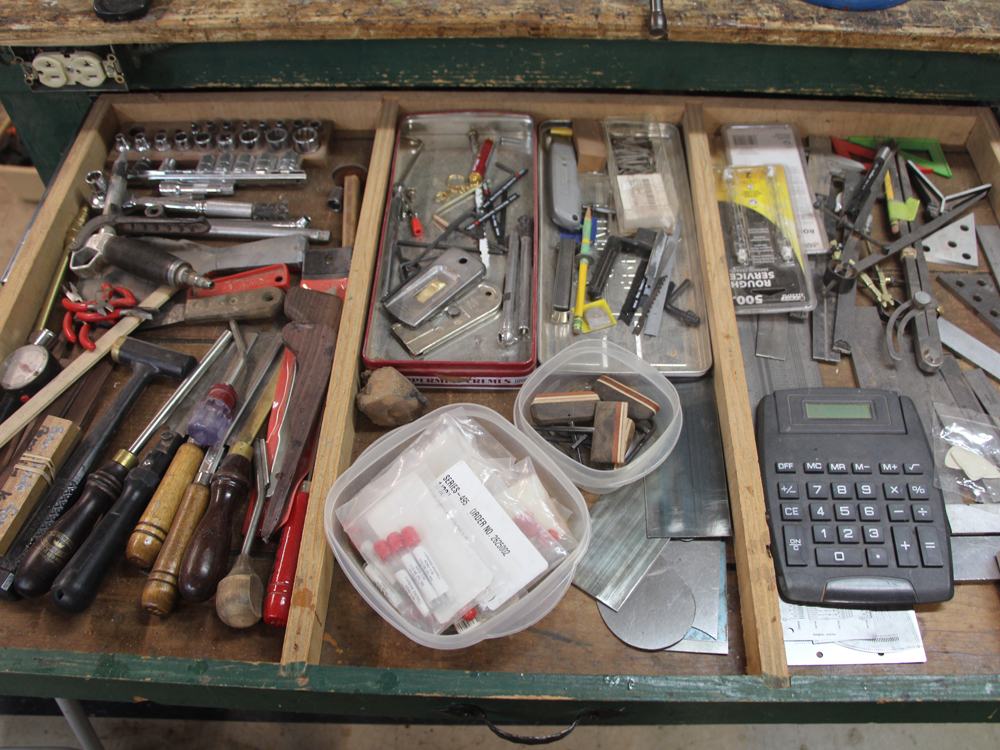 (133)
Right now tools.
(134)
Sanding and painting.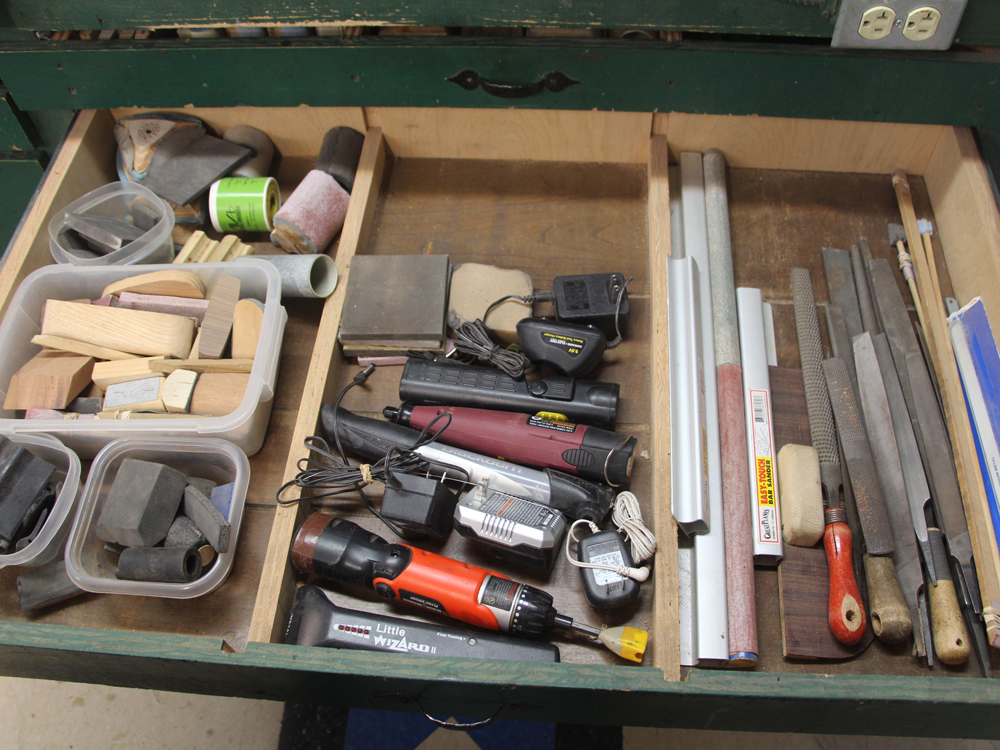 (135)
Sanding blocks, Dremel, and files.
(136)
Oversize and seldom used tool.
(137)
And here is the new addition. My wife moved her office into our departed daughter's room and I moved into her office..
The triangular wall hanging is a piece my father created.
(138)
I'll use this room as a paint booth, and storage area.
(139)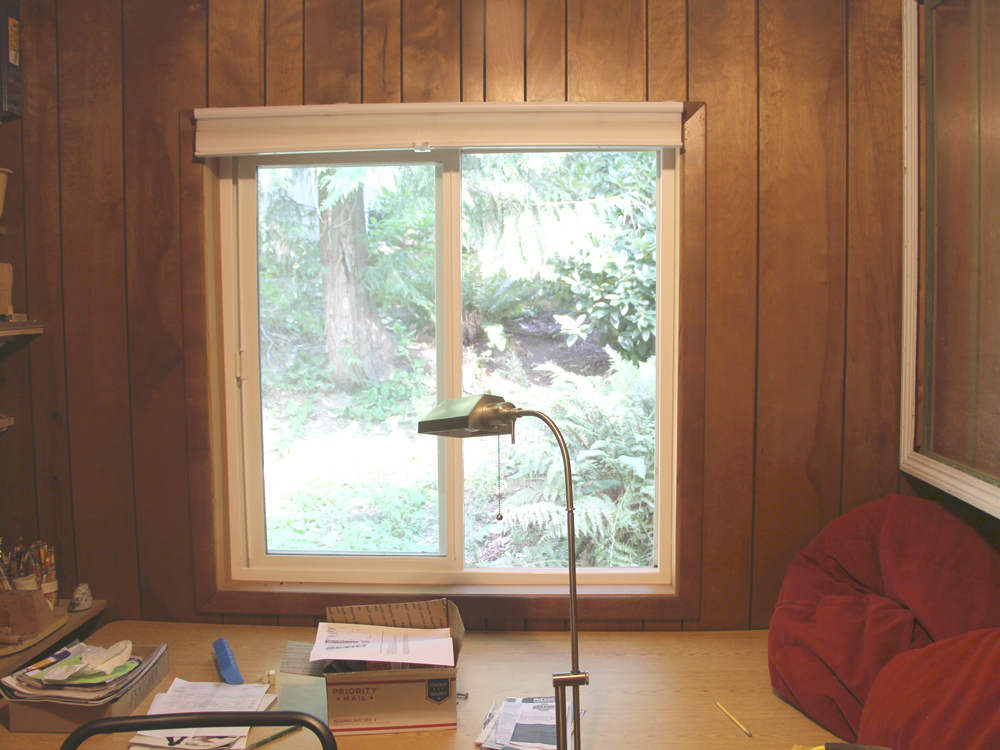 (140)
I'll blow the overs pray out this window with a couple of fans and guide walls.
(141)
This is my work in progress storage cabinet. Strange things happen if you leave your guitar out, so I like to put them behind glass as I work on them. This keeps broken clamps from flying across the room and denting that newly sanded top.
(142)
I get to display my forms.
(143)
And a place to store stuff
(144)
And I get a desk.