Portland Guitar Co. | Portland Oregon | Contact Jay Dickinson-503.245.3276 | jay@portlandguitar.com
---
Portland Guitar Pretty Good Intonation (PGPG) System
---
Jay's Biography
---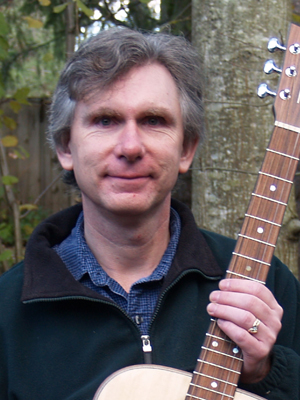 Building guitars full time since 2005
Wood working experience since 1960
Playing guitar since 1973
Education: BS in Physics, MS in Mechanical Engineering
Professional Experience: Basic Research, Reliability Physics, Failure Analysis, Reliability Engineering, and Acoustic Engineering, Program Management, Laboratory Management.
My background includes a bachelor's degree in physics, a master's degree in mechanical engineering, more that twenty-five years in corporate physics and engineering positions, plus a lifetime of woodworking experience and artistic craftsmanship. During the first twenty-five years of my professional career I worked on a range of programs including basic research in charged particle beam propagation (ray guns) at The Stanford Research Institute and the development and management of a reliability physics laboratory and an engineering acoustics laboratory at Hewlett-Packard. After leaving the high-tech corporate environment I started building guitars full time. As a largely self taught luthier I have built a fully outfitted shop capable of executing all of the functions and procedures necessary to build the highest quality instruments possible. I possess a passion and dedication to the pursuit of perfection and for delivering functional art that surpasses customer expectations and results in true customer delight.  
I focus on building personalized hand crafted steel string acoustic guitars and ukuleles that are designed with elegant sophisticated lines and deliver superior acoustic tone and playability. My objective is to build for you your dream instrument, a piece of beautiful, superior sounding functional art; something that you will be proud and pleased to pass on to future generations. In my practice of lutherie I strive to combine the science of art and the art of science, using my lifetime of artistic wood crafting experience and technical education to create instruments that satisfy the individual desires and specifications of each of my clients.
Using a wide variety of the finest quality exotic and local hardwoods, softwoods, bone and shell, each of my instruments is unique in its execution and a true work of art. My instruments are a combination of traditional designs and modern engineering practices. For example, my steel string acoustic guitars start with a traditional X-braced sound board and are enhanced with an engineered bracing system. To meet the playing style and choice of strings of each client, a Tilt Action Adjustable Neck allows the customer to easily lower and raise the action of the strings.
Considering the guitar as a cultural artifact, I am striving for my guitars to embody the look, feel and sound of a traditional acoustic instrument. After first impressions though, I want someone who is picking up one of my guitars to have an entertaining and illuminating experience. When first seeing one of my guitars I want the person to immediately recognize it as a traditional, well made, beautiful instrument. The guitar should have a familiar and recognizable form and should be inviting to play. Looking at the details of the workmanship they should see the tight joinery and the attention to the fit and finish. As they pick it up and strum a chord or two they should experience the superior sound and sensuous playability of the instrument. Looking through the sound hole the contra-rosette stands out, "Ah, the art does not stop at the top, how pretty." When looking at the contra-rosette through the sound hole the person would naturally see the engineered braces that reinforce the back. "That looks cool; I can't say I've seen other guitars with that type of bracing." Then when they look at the neck they then see that the fretboard floats above the top of the guitar. "What's going on here?" Only after puzzling out the neck attachment scheme do they then realize that the neck can be adjusted to change the action of the guitar. But in the beginning, and in the end, it just looks like a guitar.